I made this for dinner a few nights ago. It had been floating around on the
Cooking for your Family
review thread. We've really started to eat more fish and this recipe was amazing. The lemon kept the fish so moist and the sauce complimented the fish perfectly. It was thick and creamy..... it would even be a great vegetable or chip dip. Hubby loves Cajun seasoning, so I was pretty liberal with his pieces of fish, while I lightly sprinkled my piece, LOL. I really loved the combination of the spicy fish and the cool sauce. Unfortunately I forgot to take a picture of the sauce, LOL.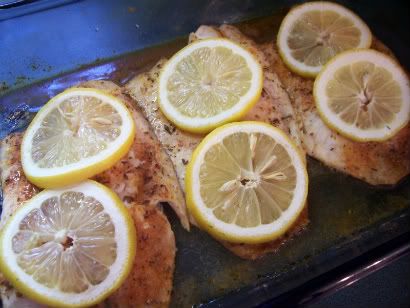 Hudson's Baked Tilapia with Dill Sauce
Jo adapted from Allrecipes
4 (4 ounce) fillets tilapia
salt and pepper to taste
1 tablespoon Cajun seasoning, or to taste
1 lemon, thinly sliced
1/4 cup mayonnaise
1/2 cup sour cream
1/8 teaspoon garlic powder
1 teaspoon fresh lemon juice
2 tablespoons chopped fresh dill
Preheat the oven to 350 degrees F (175 degrees C). Lightly grease a 9x13 inch baking dish.Season the tilapia fillets with salt, pepper and Cajun seasoning on both sides. Arrange the seasoned fillets in a single layer in the baking dish. Place a layer of lemon slices over the fish fillets. I usually use about 2 slices on each piece so that it covers most of the surface of the fish.Bake uncovered for 15 to 20 minutes in the preheated oven, or until fish flakes easily with a fork.While the fish is baking, mix together the mayonnaise, sour cream, garlic powder, lemon juice and dill in a small bowl. Serve with tilapia.
~~~~~~~~~~~~~~~~~~~~~~~~~~~~~~~~~~~~~~~~~~~~
There has been a lot of buzz lately about Quinoa, so when Aerin posted a recipe using it, on our
Cooking for your Family Board
, I decided to take the plunge and try it. I really wasn't sure what it would taste like, or what texture it would have. It's a tad expensive, but a bag goes a long way, since it triples in size when it cooks. It is a complete protein, since it contains all essential Omega acids. A very healthy grain. I made potato and Quinoa croquette and they were very delicious. The Quinoa really reminded me of couscous. It didn't have a strong flavor and paired well with the potatoes, onion and spices. The outside of the croquettes were crispy and the inside were slightly creamy. Hubby enjoyed them and so did the kids, so I'm sure we will be rotating these in our menu, from now on.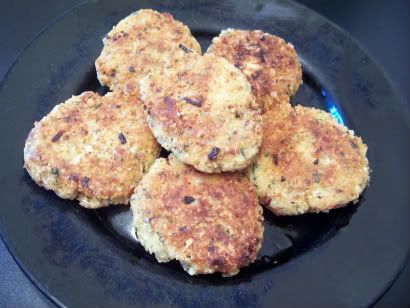 Spicy Quinoa and Potato Croquettes
Aerin
1 large russet potato, about 10 ounces
1 cup cooked quinoa (cook 1/3 cup dried quinoa, it will expand 3x's it's size to give you one cup, you can cook it in water or stock)
1 small onion, finely diced
2 tbsp sunflower oil, plus more for cooking
2 tsp paprika
1 tsp ground coriander
1 tsp ground cumin
1/2 tsp dried oregano
2 garlic cloves, minced
1/2 cup chopped parsley and/or cilantro
1 egg1/3 cup cottage cheese, grated Jack or mashed tofu ( I usually use old white cheddar)salt
1 cup fresh or dried bread crumbs.
Boil or steam the potato until tender, then mash it with a fork and mix it with the quinoa. Saute the onion in 2 tablespoons of oil in a small skillet over medium heat for 2 minutes, then add the spices and oregano. Cook over medium heat, stirring frequently, until the onion is soft about 8 minutes, then add the garlic, and cook for 1 minute more. Add this to the potato quinoa mixture along with the parsley, egg, cheese, and salt to taste.
Work the mixture together, then divide it into four large or eight smaller portions and shape them into ovals. Press each croquette gently in the bread crumbs. Generously film a nonstick skillet with the oil and set over medium heat. When hot, add the croquettes and cook on both sides until nicely browned.
Cindy's notes
: we didn't have any cumin or coriander, so I subbed some curry powder. I also used dried parsley and used olive oil to fry the croquettes.