This is a recipe from one of the Kroger Magazines we get in the mail. I really love French toast, so what could be better than french toast with sweetened cream cheese and fruit?? I knew the kids would love it, but wasn't sure about Hubby. When it comes to french toast or pancakes the plainer the better. I can't even add cinnamon to the French toast batter, if he is having some, LOL. So I made this a few mornings ago, on Hubby's day off. It was well received and everyone ate like bears, LOL. I really enjoyed how the lemon zest added a much needed bright fresh flavor to the cream cheese. It would have tasted bland other wise. I omitted the nuts because I knew the kids would care for them and think it wouldn't have paired well with the dish. So I'm happy I did that, LOL.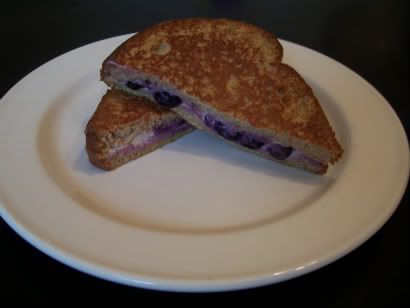 Blueberry Stuffed French Toast
Adapted from My Kroger Magazine
6oz cream cheese, softened
2 Tbs pecan pieces
1 1/2 Tbs light brown sugar
1/2 tsp lemon juice
1/4 tsp lemon zest
8 slices whole wheat bread
1/2 C frozen blueberries, thawed and drained
1 1/4 C egg substitute
3/4 C fat free skim milk
1 tsp vanilla
1/2 tsp cinnamon
1/8 tsp ginger
cooking spray
In a small bowl, stir together cheese, pecans, brown sugar, lemon juice and zest; mix well. Spread 1 side of each slice of bread with cream cheese mixture. Place 2 Tbs of blueberries over cheese mixture on 4 slices of bread. Place remaining slices, cheese side down, over blueberries to close. Lightly press together. In a shallow dish, whisk together egg substitute, milk, vanilla, cinnamon and ginger.
Spray large skillet with cooking spray and heat over medium heat. Dip bread "sandwiches" into egg mixture and add to skillet. Cook each side 3 minutes or until golden brown, flipping once with a large spatula. Remove from pan, cut in half and serve with your favorite pancake syrup. Refrigerate any leftovers.
Cindy's notes
: I omitted the pecans, since I knew the kids would not care for them. I also used 2 eggs to replace the egg substitute and 1% milk.
This post linked to
Let's do Brunch