As some of you know I have and illness that requires steroid therapy at certain times. Well about a month ago, I finished yet another round of steroid therapy. This time was the worst so far. I experience severe facial swelling. So much so, that our neighbor asked Hubby if I had eaten shell fish and had an allergic reaction. To go along with the swelling, I added on an extra 40 lbs. Now the facial swelling is gone, but the 40 lbs is still lingering, like the plague. So I've been trying to get more exercises, when possible and changing a few things in my diet, in hopes of shedding some much needed pounds. While browsing the channel menu on TV, I came across a show who's title caught my attention.
Cook Yourself Thin
. OK, I love to cook and eat, so I was interested to see how I could keep doing what I love and loose weight. This show is awesome. They show you how to cook favorite recipes that contain 1/2 the calories and keep all the flavor. Did you know that to be the weight I want to be (130 lbs) I should only be eating 1 300 calories a day!!??? I'm sure I eat way over 2 000/day without even thinking about it. So I looked the show up, on line and browsed the recipes. I copied the ones I knew we'd like and tried one the other night, for dinner. This was a quick, simple and delicious recipe. The chicken was tender, spicy and crunchy. The salad was tangy and paired perfectly with the chicken. Hubby really enjoyed it, though he added extra hot sauce to his chicken, LOL. I simply breaded the kids chicken, without the hotsauce and served Mr.B a tossed salad and Queenie some sweet potatoes and water melon. This would be more suited for lunch and would be a great meal to entertain with. I'm excited to show this to my mother in law, who loves buffalo chicken.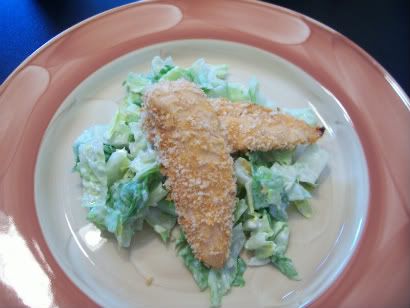 Buffalo Chicken Salad
Adapted from Cook Yourself Thin on Lifetime TV
Serves 4
Calories per serving: 480
2 tablespoons hot sauce
1 teaspoon apple cider vinegar
1 teaspoon dark brown sugar
1/4 teaspoon salt
1 pound chicken tenders
1/2 cup whole-wheat bread crumbs or Panko bread crumbs
1 teaspoon vegetable oil
1 ounce crumbled blue cheese (about 1/4 cup)
1/4 cup plain nonfat yogurt
2 tablespoons nonfat or low-fat buttermilk
1/4 teaspoon black pepper.
1 head romaine lettuce, chopped6 celery stalks, thinly sliced
1. Preheat the oven to 400 degrees. Whisk together the hot sauce, vinegar, sugar and salt in a shallow dish until well blended. Add the chicken and turn to coat. Marinate for 10 minutes at room temperature.
2. Put the bread crumbs and oil in a shallow dish and toss to combine. Dredge each chicken tender in the bread crumbs, completely coating both sides. Transfer to the rack of a broiler pan or to a metal rack fitted over a rimmed baking sheet. Bake, turning once, until chicken is cooked through and crust is golden brown, about 12 minutes.
3. While the chicken is baking, stir together the cheese, yogurt, buttermilk and pepper. Toss with the lettuce and celery until well coated. Divide the dressed greens and chicken tenders among 4 serving plates and serve immediately