I made this for dinner last night. There has been a thread floating around about Chicken and Swiss Cheese on my cooking board, which reminded me I hadn't made this dish in a long time. I love the combination of tangy swiss cheese and smoky ham, with chicken. Hubby requested a jazzed up bechamel sauce to go along with the chicken. It tasted so much better with the sauce, no wonder he is a Chef and I'm not, LOL. The potatoes were really good too. They reminded me of Dill Pickle chips, that I use to eat, when we lived in Canada. The creamy dill sauce paired beautifully with the tender new potatoes.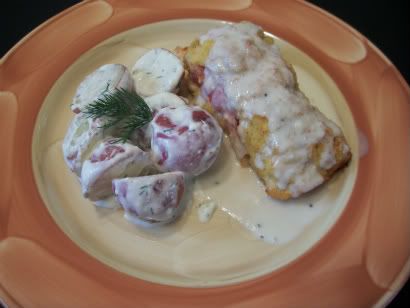 Chicken Cordon Bleu
4 skinless, boneless chicken breast
4 slices Swiss or Provolone cheese
8 thin slices smoked ham
1/4 cup all-purpose flour
1 egg; beaten
1 cup Italian seasoned bread crumbs
2 Tbs butter
2 Tbs flour
1 cup milk
1/4 C parmesan cheese
4 slices swiss cheese
fresh ground pepper
Pound chicken breast to1/4-inch thickness. Sprinkle each piece on both sides with salt and pepper. Place 1 cheese slice and 2 ham slices on each breast. Roll up each breast using toothpicks to secure if necessary. Dredge each in flour, shake off excess, then in egg and finally in bread crumbs. Place seam side down in baking dish that has been sprayed with Pam. Spray each pice of chicken with Pam. Bake at 350° for 35 minutes until juices run clear. Meanwhile, in a saucepan, melt butter. Once melted add flour and mix together; let mixture cook for one minute. Slowly whisk in milk; making sure there is no lumps and bring up to a boil. Add Parmesan and Swiss cheese, stiring to melt. Season to taste (salt, pepper). Simmer on low stirring until thickened. Pour over cooked chicken.
New Potatoes in Creamy Dill Sauce
Adapted from Kraft Food and Family Magazine
1-1/2 lb. small new potatoes (about 22), quartered
1/2 cup water
1/2 cup PHILADELPHIA Chive & Onion Cream Cheese Spread
1/2 cup milk
1/2 tsp. dill weed
MICROWAVE potatoes and water in covered 3-qt. microwaveable dish on HIGH 15 to 17 min. or until potatoes are tender, stirring after 10 min.; drain. Return potatoes to dish; set aside. MICROWAVE cream cheese and milk in microwaveable bowl 1 min.; stir until smooth. Pour over potatoes; sprinkle with dill. MICROWAVE 1 to 2 min. or until heated through; stir gently.
Stove top directions
: Boil potatoes in salted water until fork tender. Drain into a colander. In same pot melt cream cheese with milk. Add in potatoes and dill and toss to combine.
Cindy's notes
: I used regular cream cheese and added 1 Tbs finely grated onion to the cream cheese/ milk sauce.