As you all know Hubby was a manager at Chili's Bar and Grill. Due to the economy, he had been warned of possible job loss. He saw this as the perfect opportunity to move back to my native country, Canada. Being Native American, Hubby and the children have dual citizenship, so moving back should go smoothly. So a few weeks ago, Hubby gave his 2 week notice. On his last day, the lovely executives at Chili's rewarded Hubby for all his hard work, with gift bags. They contain a
notepad/calculator
( great for writting your grocery list and keeping track of your budget in the store),
a chili pepper key chain
,
dog tag
, a
sports bottle
, a
pocket coolie
and a small book full of different colored
post its and post it tabs
. And all this comes in a cute little
Chili's pouch
, that can double as a back pack. We kept one each and I have 1 left.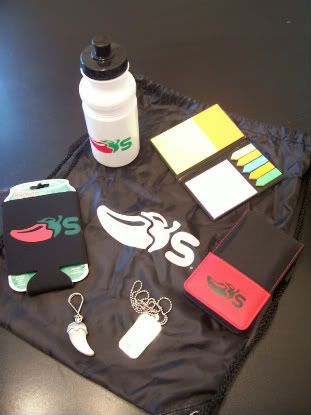 So, if you're interested in winning this please leave a comment and tell me what your favorite restaurant is and why. Leave your name and email address in the [at] [dot] com format, so I can contact you if you win.
y ends Sunday May 17th at 9pm central time. Winner will be announced Monday .