Since Hubby started working at Kroger supermarket, we are now receiving little magazines full of coupons and recipes, in the mail. This monkey bread recipe was in the Easter edition and it caught my eye, since it used home made dough, rather than canned biscuit dough. I'm always looking to make things from scratch, as much as possible, so I knew I would definitely be making this. The plan was for breakfast, Easter morning, but I forgot to make the dough, early enough, so I wouldn't be up too late. Which was the case for the past few weeks, I'd remember to make the dough at 9:30 pm. Much too late for wimpy ole me, LOL. So the other night, DH was home,so I made the dough, once Queenie was in bed. It was very simple to make and assemble. The next morning all I had to do was preheat the oven, throw the bread in and make the glaze. The result was fluffy caramel-y flavored bread, due to the brown sugar. The glaze added a nice fresh citrus sweetness. Mr.B and Queenie, both couldn't get enough.
Overnight Orange-Glazed Monkey bread
adapted from Kroger My Magazine
1 pkg(1/4oz) active dry yeast
1/4 C warm water (100-110*F)
1/4 C sugar, divided
3 3/4 C AP flour
2 tsp salt
1 C warm milk (100-110*F)
2 Tbs melted butter
cooking spray
Brown sugar mixture
1 C light brown sugar
2 tsp cinnamon
4 Tbs butter, melted and cooled
Glaze
1 C confectioner's sugar
2 Tbs milk
1/4 tsp orange extract
Mix yeast, warm water and 2 Tbs of sugar in a bowl of a stand mixer; let stand for 5 minutes until bubbly. Add flour, salt and remaining sugar to the bowl. Attach dough hook and turn mixer on low. Mix the milk and 2 Tbs melted butter together, then add to the bowl. Let dough knead for 5-6 minutes; scrape dough into a greased bowl, cover with plastic wrap and let rise one hour.
Spray a fluted bundt pan with cooking spray. Mix brown sugar and cinnamon in a small bowl. Deflate dough, which will be sticky, and pinch off table-spoon size pieces, roll into balls, dip in melted butter and roll in cinnamon sugar. Place evenly around bundt pan; the pan should be 1/3 filled with dough, when finished. Cover with plastic wrap and let rise in the fridge overnight.
In the morning, remove dough from fridge, 30 mins before baking. Preheat oven to 350 degrees and bake bread for 30-35 minutes; if top gets too dark, cover with foil. Let bread sit 5 minutes, before turning onto a serving plate. Stir together confectioners sugar, milk and orange extract; pour evenly over bread.
Cindy's notes
: I didn't have orange extract, so I subbed 2 Tbs of fresh orange juice, for the milk and 1/4 tsp of orange zest for the extract.
~~~~~~~~~~~~~~~~~~~~~~~~~~~~~~~~~~~~~~~~~~~~~~
A few week's ago, while browsing the What's for Dinner thread on the
CFYF board
, someone had posted that they were making Gingersnap Chicken with Pineapple Rice. I was intrigued and asked for the recipe. It was simple with few ingredients, so right up my ally, LOL. I wasn't sure if Mr.B and Queenie would eat the chicken since gingersnaps can be quite spicy. I used bone in breasts, so I ate the outer coating, leaving the center plain chicken for the kids. It was crunchy and slightly sweet. The ginger flavor went perfectly with chicken. I knew the rice would be a hit, since we love pineapple. I used brown Minute Rice and substituted green onion for the peppers. I knew Mr.B would refuse to even taste the rice if it had peppers in it.... sigh. It was sweet and salty, very delicious. Queenie could not get enough and Hubby said it was a nice change from regular chicken and rice.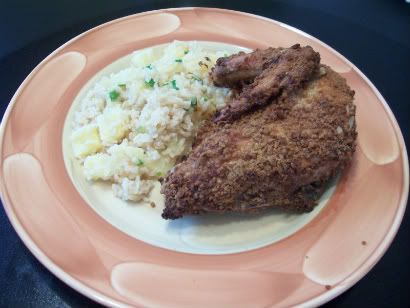 Gingersnap Chicken N Pineapple Rice
Jennifer - from BHG magazine
1 – 15 oz or 2 8oz cans pineapple tidbits
¾ cup uncooked long grain rice
½ tsp salt
½ cup coarsely chopped green sweet pepper
1 cup finely crushed gingersnaps (about 20)
¼ tsp salt
1 egg
1 tbsp water
4 boneless, skinless chicken breast halves, cut into halves lengthwise
Heat oven to 400. Drain pineapple, reserving juice. Set pineapple aside. Add enough water to juice to equal 1-3/4 cups. In medium saucepan, stir together juice mixture, rice and the ½ tsp salt. Bring to boiling; reduce heat. Simmer, covered, for 18 minutes. Remove from heat. Stir in pineapple and pepper. Let stand, covered, for 5 minutes
Meanwhile, lightly coat a 15x10" baking dish with nonstick cooking spray; set aside. In a shallow dish combine gingersnaps and the ¼ tsp salt. In another shallow dish, use for or whisk to combine egg and 1 tbsp water. Dip chicken pieces, one at a time, into egg mixture, then into gingersnap mixture to coat. Arrange chicken in a single layer in prepared baking pan. Lightly coat chicken with nonstick spray. Bake uncovered for 15-18 minutes or until chicken is no longer pink. Serve chicken strips with rice mixture. Serves 4.