I receive the Kraft Food and Family Magazine, through the mail. It's free, full of quick easy and yummy recipes, so make sure to go to
Kraft Foods
to sign up for one. So I got the spring/summer issue and saw a recipe for potatoes with bacon and cheese. I knew these would be right up our ally, so I decided to give it a try. They were good, but very under seasoned. Maybe it's just my need for extra salt, with potatoes and sour cream, I'm not sure, LOL. These were very simple to make and tasted great. I was a bit disappointed that they didn't crisp up a little, but they were good regardless. I over cooked them a tad, trying to wrangle Queenie and cook at the same time, it can sometimes be a challenge.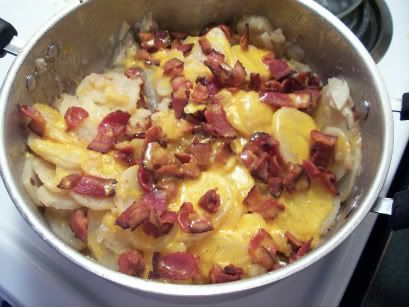 Skillet Potatoes with Bacon & Cheddar
Adapted from Kraft Food and Family Magazine
4 slices Center Cut Bacon, cut into 1/2-inch pieces
1 onion, chopped
2 lb. Yukon gold potatoes (about 6), thinly sliced
1 cup Shredded Cheddar Cheese
6 Tbsp. Sour Cream
COOK bacon in large nonstick skillet on medium heat until crisp. Remove bacon with slotted spoon, reserving 3 Tbsp. drippings in skillet. Drain bacon on paper towels. Add onions to skillet; cook and stir 5 min. Stir in potatoes; cover. Cook on medium-low heat 20 to 25 min. or until potatoes are tender, stirring occasionally. TOP with cheese and bacon; cook, covered, 1 to 2 min. or until cheese is melted. SERVE topped with sour cream.
Cindy's notes
: I used regular Idaho potatoes, since we rarely buy Yukon Golds and regular hickory smoked bacon.
~~~~~~~~~~~~~~~~~~~~~~~~~~~~~~~~~~~~~~~~~~~~~~~~~~
Sometimes I just like light suppers that consist of appetizers and salads. This was the case a few days ago. I had bought some fresh Agnolotti ( similar to ravioli, but half moon shaped), since I had a killer coupon and they were on sale. I knew the package would never feed a family of 4, so I waited to use it when Hubby would be working nights. One of my favorite appetizers when we go out to eat is fried ravioli. I was glad to find a recipe on Baby Center's CFYF board, that required baking instead of frying. I tried this recipe 2 yrs ago and make it on occasion, when I remember about it, LOL. They come out crispy, minus all that extra fat from frying in oil. Mr.B called it inside out pizza and Queenie ate with much vigor. Hubby was lucky to have a few leftover and mentioned making them more frequently.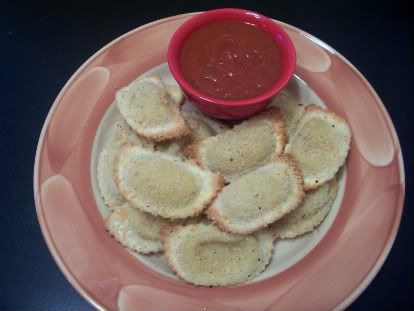 Crispy Baked Ravioli
Adapted from Jessica's Recipe
1/2 cup Italian breadcrumbs
1/4 cup grated Parmesan cheese
1/2 cup sour cream
1/4 cup milk1 package refrigerated cheese filled ravioli (9 ounce)
3/4 cup pasta sauce warmed.
Heat oven to 375F and combine bread crumbs and cheese in a medium bowl. Combine sour cream and milk in a small bowl and dip ravioli in sour cream mixture, then in bread crumbs mixture to coat evenly. Place ravioli on non stick baking sheet and bake for 12 to 14 minutes or until ravioli are crisp and lightly browned. Serve immediately with pasta sauce.
Cindy's notes
: I made my own bread crumbs by grating up some stale baguette, with the rough side of my box grater. I added a bit of dried basil, Parmesan and fresh ground pepper. I was out of sour cream, so I dipped the Agnolotti in melted butter, before dipping in the bread crumbs.