Yesterday was Memorial Day. We had a backyard BBQ with our neighbors and a few of our friends. It was a blast. I wanted to make a dessert for the kids and wanted to keep with the start of summer theme. I remembered cupcake recipe that I had copied from the Betty Crocker website. I had all the ingredients on had, so I went with it. All I can say is Oh my goodness, these are delicious!! Not too sweet with an ooey gooey frosting. The kids loved them, and someone asked if he could bring the leftovers home, LOL. I really like the frosting and think I may try it to frost a regular cake in the future.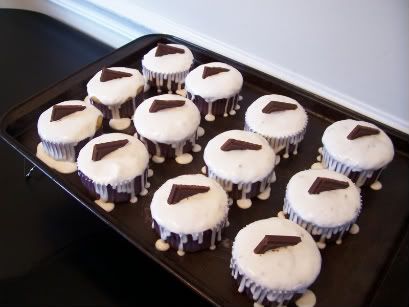 S'mores Cupcakes
adapted from Betty Crocker
Enjoy s'more fun with cupcakes packed with the goodies--graham crackers, chocolate candy and marshmallow creme.
1 box Betty Crocker® SuperMoist® yellow cake mix
Water, oil and eggs called for on cake mix box
1 cup graham cracker crumbs
4 bars (1.55 oz each) milk chocolate candy, finely chopped
1 jar (7 oz) marshmallow creme
1/2 cup butter or margarine, softened
2 cups powdered sugar
1 to 2 teaspoons milk
1 bar (1.55 oz) milk chocolate candy, if desired
24 bear-shaped graham crackers, if desired
1 . Heat oven to 375°F. Place paper baking cup in each of 24 regular-size muffin cups.
2 . In large bowl, beat cake mix, water, oil and eggs with electric mixer on low speed 30 seconds. Beat on medium speed 2 minutes, scraping bowl occasionally. Fold in graham cracker crumbs and chopped chocolate bars. Divide batter evenly among muffin cups.
3 . Bake 20 to 24 minutes or until toothpick inserted in center comes out clean. Cool 10 minutes; remove from pan to cooling rack. Cool completely, about 30 minutes.
4 . Remove lid and foil seal from jar of marshmallow creme. Microwave on High 15 to 20 seconds. In large bowl, beat marshmallow creme, butter and powdered sugar on low speed until blended. Beat in enough milk, 1/2 teaspoon at a time, to make frosting spreadable. Spread over tops of cupcakes. Divide chocolate bar into rectangles. Cut each rectangle diagonally in half and place on top of each cupcake. Top each cupcake with bear-shaped cracker. After frosting has set, store loosely covered at room temperature.
Cindy's notes
: I used margarine, since my butter was refrigerated and I was too lazy to wait for it to soften. I will never use it again. It made the frosting very soft and I had to add more powdered sugar and omit the milk.