There was a blueberry scone thread on Cooking for your Family, yesterday. One of the members suggested a recipe she had seen over on
Mommy's Kitchen
. I have a huge bag of frozen blueberries in the freezer, that I need to use up in the next 2 weeks, so I decided to give these scones a try, this morning. All I can say is YUMMY!!! These were so easy to make and taste store bought. I've always been hesitant about making scones, since they usually turn out hard, LOL. These are light, fluffy and as Tina, from Mommy's Kitchen says, the insides are cotton-y soft. I made a lemon glaze to go on top and it adds a fresh sweetness. They are just as good without glaze, since I shared a plain one with Queenie. Mr.B and I then enjoyed a lemony glazed scone, once she was napping. Thumbs up for me and a big thanks to Tina, who's blog I am now following :o).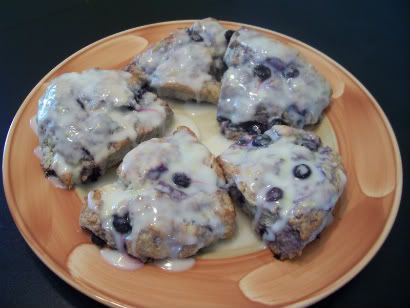 Blueberry Sour Cream Scones

Adapted from Mommy's Kitchen
2 cups all-purpose flour
1/3 cup sugar
1 teaspoon baking powder
1/4 teaspoon baking soda
1/2 teaspoon salt
8 tablespoons unsalted butter, frozen
1/2 cup raisins (or dried currants)
1/2 cup sour cream1 large egg
1/2 - 1 cup fresh blueberries
Adjust oven rack to lower-middle position and preheat oven to 400 degrees.In a medium bowl, mix flour, 1/3 cup sugar, baking powder, baking soda and salt. Grate butter into flour mixture on the large holes of a box grater; use your fingers to work in butter (mixture should resemble coarse meal). In a small bowl, whisk sour cream and egg until smooth. Using a fork, stir sour cream mixture into flour mixture until large dough clumps form. Add the blueberries, I toss mine in a bit of flour before adding. Mix gently and use your hands to press the dough against the bowl into a ball. (The dough will be sticky in places, and there may not seem to be enough liquid at first, but as you press, the dough will come together.)
Place on a lightly floured surface and pat into a 7- to 8-inch circle about 3/4-inch thick. Sprinkle with remaining 1 tsp. of sugar. Use a sharp knife to cut into 8 triangles; place on a cookie sheet (preferably lined with parchment paper), about 1 inch apart. Bake until golden, about 15 to 17 minutes. Cool for 5 minutes and serve warm or at room temperature.
Chocolate Chip Scones
: Follow recipe for blueberry scones. Substitute chocolate chips for blueberries.
Cranberry-Orange Scones
:
Follow the recipe for Blueberry Scones omitting blueberries and adding a generous teaspoon of finely grated orange rind (zest) to the dry ingredients and substituting dried cranberries for the blueberries.
Cindy's notes
: I used frozen berries, which I left in the freezer, until he last minute, then dusted with flour, before mixing them in. I omitted the raisins since Tina hadn't used them. For the glaze I mixed 1C of powdered sugar with 1/4 tsp lemon zest, juice of half a lemon and just enough water, so that the glaze wouldn't be thick.