This pork chop recipe is something I've been making, since my sister shared the recipe, about 12 yrs ago. It's so simple, but the chops end up tasting awesome. I really enjoy the saltiness of the pork, paired with the sweetness of the glaze. I make this recipe at least once a month or so. I served it with homemade Mac'n'Cheese. I still haven't found a knock you on your butt, recipe for Mac'n'Cheese yet. Plus for some reason, every time I make it, the cheese sauce comes out all grainy. Hubby insisted the sauce was fine, but I guess I'm a perfectionist, LOL.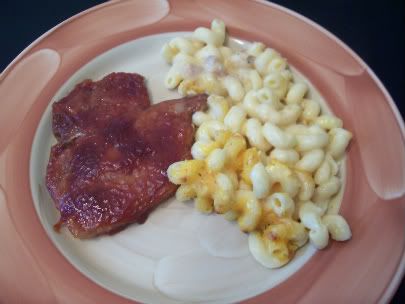 Sweet and Sour Pork Chops
4 bone in pork chops
1 C dark brown sugar
1/2-3/4 C Ketchup
1 Tbs Worcestershire sauce
salt and pepper
Preheat oven to 400 degrees. In a small bowl, mix together dark brown sugar, 1/2C ketchup and Worcestershire sauce. Add more ketchup, if sauce is too thick. It should be the consistency of pancake batter. Line a rimmed cookie sheet with foil ( don't skip this part, since you'll be scrubbing all night). Season pork chops on both sides with salt and pepper. Place them on the cookie sheet and brush on sauce to completely cover top side of the chop. Bake in oven for 15 minutes, flip and slather with more sauce. Bake for 15 minutes more, or until chops are cooked through. ( I like to set the broiler on low and broil the chops for the last few minutes, so the sauce gets all bubbly and thick).
Mac'n'Cheese
1/2 a box of macaroni, cooked
2 Tbs butter
2 Tbs flour
2 C milk
salt and pepper
6 oz of sharp cheddar, grated
4 slices Kraft singles
1/4 C seasoned bread crumbs
Preheat broiler to low. In a medium sized pot, melt butter, over medium heat. Once melted, add flour, mix thoroughly and cook for 1 minute. Slowly whisk in milk, ensuring there is no lumps. Add salt and pepper, to taste. Bring milk to a simmer, whisking to ensure the milk will not burn on bottom. Simmer until milk thickens. Add Kraft singles and grated Cheddar, stirring until melted. Toss cheese sauce with cooked pasta and dump into a buttered casserole dish. Sprinkle with additional grated Cheddar and bread crumbs. Place under broiler, until cheese starts to bubble and brown.
~~~~~~~~~~~~~~~~~~~~~~~~~~~~~~~~~~~~~~~~~~~~~~~~~~~~~~
Since Moving to the Southern part of the U.S. Hubby and I have been drinking a lot of Sweet Tea, or Iced Tea, as us Canadians like to say. A few years ago, we decided to start making our own, instead of shelling out $3 for a gallon of sweet tea. I make about 4 quarts every 3-4 days, so it's become a staple in our house. I don't like it overly sweet and love mine with a hint of fresh lime juice. Wonderfully refreshing on a hot Southern night, LOL.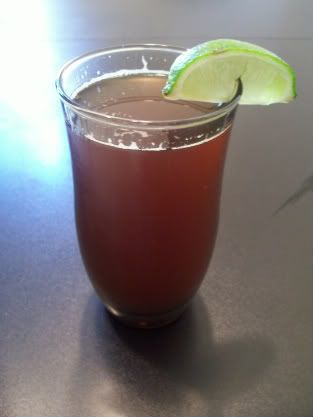 Sweet/Iced Tea
4 quarts of water
2/3C of sugar
2 family sized tea bags
Bring water to a boil, in a large pot. Remove from heat and add tea bags. Let steep 5 minutes ( more if you like stronger tea). Remove tea bags, and stir in sugar, until completely dissolved. Let tea cool in pot and transfer to a pitcher. Store in fridge.