This was one of last weeks Meal of the Week recipes on Baby Center's
Cooking for your Family
board. I was bringing dinner to my best friend, so I figured this would be a great opportunity to try this recipe. It was easy to make and turned out moist and delicious. I love the chunks of slightly crunchy apple through out. I doubled the recipe, so we could have one too and it got rave reviews here at home. My girlfriend loved it too, so I'm thinking it's a keeper. I ommited the nuts since I was out, used Gala and Granny Smith apples and dusted the pans with sugar, after greasing them.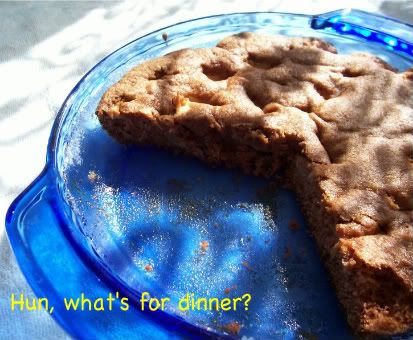 Apple Pie Cake
submitted by Bex

1/4 cup butter
3/4 cup sugar
1 large egg
1 cup flour
1 teaspoon baking soda
1 teaspoon cinnamon
1/2 teaspoon salt
1/2 teaspoon nutmeg
1/8 teaspoon ground cloves
1 teaspoon vanilla
2 cups chopped apples
1/2 cup chopped nuts

Preheat oven to 350F. In a bowl combine flour, baking soda, salt, cinnamon, nutmeg and cloves. Set aside.In a large mixing bowl, blend butter, sugar, egg and vanilla until well blended. Mix in dry ingredients and stir in apples and nuts.Spread mixture into a greased and floured 9" pie pan. Mixture will seem quite dry but try to spread evenly.Bake for 40-45 minutes.
Bex's Notes: I usually double this and make it in a 9x13 pan (same baking time, test for doneness).