I saw these on
Mommy's Kitchen
and they looked so good, I had to try them. I have an odd love for biscuits, ever since DH and I went on vacation to Houston Texas, about 8 yrs ago. There is just something about the soft pillowy center and the salty crust that makes me feel good inside, LOL. So I decided to try my hand at making some. They were pretty easy to make, although I did over bake them, thanks to rowdy children. None the less they tasted great. I'll be making these again and again I'm sure.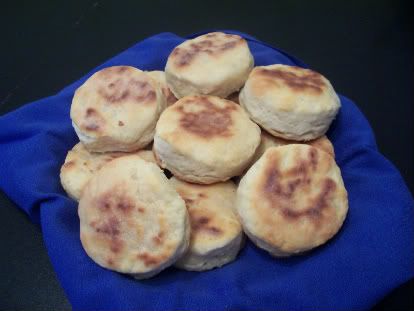 Southern Livings Best Buttermilk Biscuits

1/2 cup cold butter (1 stick real butter)
2 1/4 cups self-rising flour
1 1/4 cups buttermilk
additional Self-rising flour(for counter surface to knead dough)
2 tablespoons melted butter

Cut butter with a sharp knife or pastry blender into 1/4-inch-thick slices. Sprinkle butter slices over flour in a large bowl. Toss butter with flour. Cut butter into flour with a pastry blender until crumbly and mixture resembles small peas. (I used my hands) Cover and chill 10 minutes. Add buttermilk, stirring just until dry ingredients are moistened. Turn dough out onto a lightly floured surface; knead 3 or 4 times, gradually adding additional flour as needed.

With floured hands, press or pat dough into a 3/4-inch-thick rectangle (about 9 x 5 inches). Sprinkle top of dough with additional flour. Fold dough over onto itself in 3 sections, starting with 1 short end. (Fold dough rectangle as if folding a letter-size piece of paper.) Repeat entire process 2 more times, beginning with pressing into a 3/4-inch-thick dough rectangle (about 9 x 5 inches). Press or pat dough to 1/2-inch thickness on a lightly floured surface; cut with a 2-inch round cutter, and place, side by side, on a parchment paper-lined or lightly greased jelly-roll pan. (Dough rounds should touch.) Bake at 450° for 13 to 15 minutes or until lightly browned. Remove from oven; brush with 2 Tbsp. melted butter.

Prep: 20 min., Chill: 10 min., Bake: 13 - 15 min.