My Mom gave me this recipe, a while back, when I was complaining that I wanted to bake, but was out of flour. I was a little skeptical, but tried it anyway. Ever since then, this has been my go to Peanut Butter recipe. I made it a few years back for a Cancer fundraiser for Hubby's uncle, and got many requests for the recipe. I like that they are so quick to put together and taste so good. They are slightly chewy and irresistible. Bet you can't eat just one!!!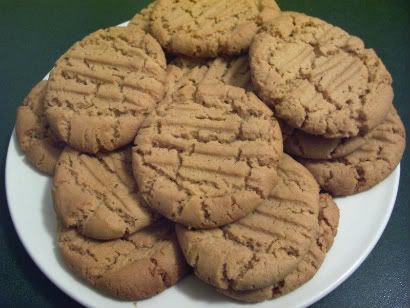 Easy Peanut Butter Cookies

1 C peanut butter
1 C sugar
1 egg
1 tsp baking soda

In a small bowl, mix all ingredients thoroughly. Drop tablespoonfuls of dough, onto a cookie sheet. Using the tynes of a fork, press lightly onto the center of the cookie. Bake at 350 degrees for about 10-15 minutes, until edges start to brown.