Pork Tenderloin was on sale a few weeks back, so we picked up a few packages. There is 2 tenderloins per package, so I knew I'd get 2 dinners out of them. I browsed on line for new ideas to prepare them. I decided to combine a few ideas I had seen. I combined some of my favorite BBQ rub with some spicy brown mustard and marinated the tenderloins for a few hours. It turned out wonderfully! The tenderloins were so flavorful and moist. I added some potatoes to the roasting pan, about 30 minutes before the meat was done. The potatoes took on the flavor of the marinade and tasted awesome. Mr.B and Queenie gobbled down their dinners and my Mother in law was quite impressed. I'm keeping this in my marinade file for sure.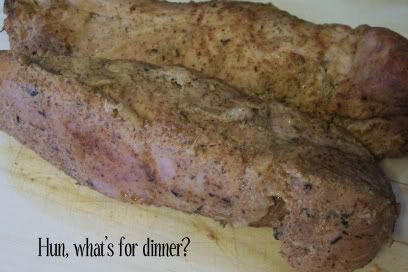 Spicy Mustard Marinaded Pork Tenderloins

4 Tbs BBQ rub ( recipe below)
1/4 tsp thyme
1/4 C spicy brown mustard
2 Tbs water
2 lbs pork tenderloins

In a large Ziploc bag combine the BBQ rub, thyme, mustard and water. Place in tenderloins and zip up, making sure to squeeze out any air. Smush the tenderloins around so the ingredients get all incorporated and the tenderloins are covered with sauce. Let sit in refrigerator at least 3 hrs. Preheat oven to 375 degrees. Place tenderloins in a roasting pan with about 1/2 C water. Cook for 1 hr. At this point you may add potatoes to the roasting pan and cook everything until potatoes are tender, about 30 minutes. Remove tenderloins and let rest 20 minutes before slicing. Take any remaining pan drippings to make gravy for the potatoes, by thickening with 1 Tbs cornstarch to 2 Tbs water.

Barbeque Rub
Sandy

2 cups sugar (I use superfine)
1/4 cup paprika
2 t chili powder
1/2 t cayenne pepper
1/2 cup salt
2 t black pepper
1 t garlic powder

Combine all ingredients and use as a rub for any barbeque meat. Yields about 3 cups.
Sandy's notes: Rub this into chicken, ribs, fish, or pork chops before grilling, broiling or pan frying. I sprinkle it on beef brisket and cook in the crock pot all day... OK, this rates at the very top for my favorite seasoning!