We had a cookout with family this past weekend, which left us with a pretty good amount of top sirloin steak. It was cooked medium rare, which I can not stomach, so I took the opportunity to use it up in a new dish, that would allow me to cook it fully. The kids are always fond of broccoli, so I figured I pair the 2, aiming for something similar to what you find at a Chinese restaurant. I browsed online to get the basic concept of how to recreate the meal and came up with a pretty tasty dish. It got rave reviews from the kids and Hubby. Mr.B came running into the kitchen exclaiming that whatever I was cooking sure smelled delicious. My only thought was " yeah, I hope you eat it too", LOL. Everyone cleaned their plates so I was happy. The beef was tender with a nice garlicky Asian flavor. I served it over plain Ramen noodles, but it would be equally good over plain rice.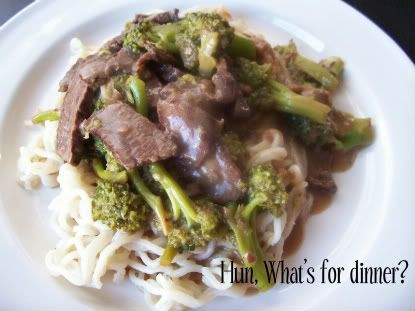 Beef with Broccoli

3 C top sirloin steak, thinly sliced
2 Tbs olive oil
2 tsp garlic, minced
1/4 tsp ground ginger
3 C broccoli , cut into small spears
1 can mushroom soup
2 Tbs soy sauce
1 Tbs worcestershire sauce
1/4 C water
pepper

In a large fry pan heat oil. Add garlic and ginger; toss to coat. Add steak and cook for 3 minutes, until no longer pink. Add broccoli, toss to coat and cook 2 minutes. Meanwhile mix the mushroom soup with the water, soy sauce, worcestershire and some pepper, to taste. Add to the pan, bring to a boil and simmer until broccoli is tender crisp and the sauce has thickened slightly. Serve over hot plain Ramen Noodles or rice.