I saw Paula Dean make a version of this dish a while back, and wondered where it originated from. The original dish takes its name from the Divan Parisienne (restaurant) in New York. The restaurant no longer exists, but this dish lives on to please families everywhere.
I had a ton of broccoli that I needed to use and wanted something creamy and ooey good, so I was happy to find this recipe. Once again good ole
Cooking for your Family
came to the rescue. I always have all these ingredients on hand, so it's a great go to meal. The only thing I will do differently next time is use Mayonnaise instead of Miracle Whip. I grabbed the MW out of the fridge, without giving it a second thought, since I prefer it to Hellmans. I found it made the dish slightly too sweet and that resulted in the children picking out the broccoli and chicken. I was certain the remaining 3/4 of the dish would sit in the fridge for a week, until I threw it out. I was pleasantly surprised to find out that Hubby and my nephew had happily eaten the remainder, once they had gotten home from work.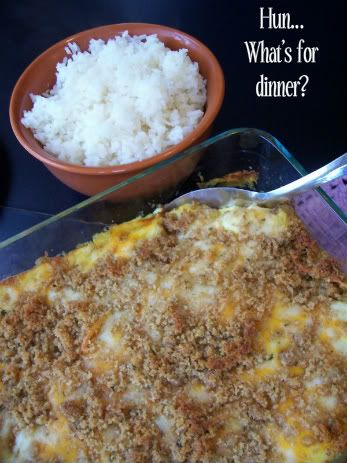 Here is what it looked like on the plate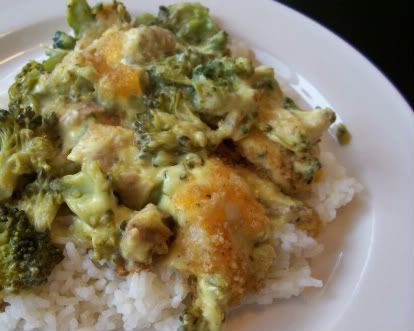 Chicken Divan
Submitted by Rachel

2 cups cooked chicken
1 cup mayo
1 can cream of "fill in the blank" soup*
2 tsp. lemon juice
1 tsp. curry powder
1/4 cup bread crumbs
2 tbsp. butter, melted
cheddar cheese, shredded
9 oz. frozen broccoli florets, cooked

Arrange broccoli in a 9 inch pie plate, salt and pepper to taste. Combine chicken, soup, mayo,lemon juice and curry. Spread over broccoli. Sprinkle cheese over top. Mix melted butter and breadcrumbs. Sprinkle over cheese. Bake at 350 for 25 minutes. Serve over rice.
Rachel's notes* I like to use cheddar cheese soup, but you can use broccoli, chicken or whatever you like.