Hubby makes the most amazing Chicken and Dumplings. The first time he made it for me, was about 9 yrs ago, when I was having a Crohn's flare up. To be honest, I wasn't too impressed with the dish and hardly ate any of it, LOL. I found it had too many herbs in it and thought it tasted weird. Now this was after living most of my life eating food seasoned with only salt and pepper. So any foreign herbs and spices threw me for a loop. Despite my initial reaction to the dish, I kept trying it, every time Hubby would make it. It is now one of my favorite cold weather dishes he makes. The tender noodles paired with the savory chicken and vegetables, blend so well with the fluffy dumplings. Hubby has made this for several of my family members and it has now become one of his most requested dishes.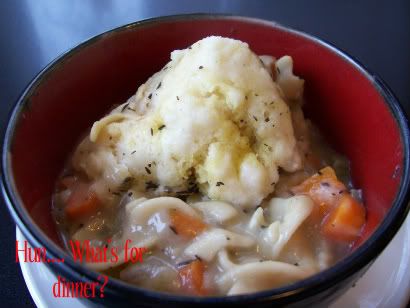 Hubby's Chicken and Dumplings
1 lb chicken thighs ( with bones and skin)
2 C carrots, chopped
1 C celery, chopped
1 onion, chopped
5 C chicken stock
2 tsp thyme
2-3 bay leaves
salt and pepper
1/2- 1 bag medium egg noodles (depending on size of pot)
Dumplings
1 C flour
2 tsp baking powder
1/2 tsp salt
1/2 C milk ( may need more if too dry)
In a large soup pot heat oil and brown chicken thighs on every side, until golden brown. Add onion, carrot and celery and cook for 2 minutes. Add chicken stock, thyme, bay leaves, salt and pepper. Bring to a boil and simmer, covered, for 1 hr. Remove chicken thighs. Remove meat from skin and bones and chop to bite size pieces. Return to pot also adding egg noodles. Cook until noodles are just shy of aldente. Mix flour, baking powder and salt. Add milk and stir until well combined, adding more milk if needed, to make a thick batter. Drop by tablespoonfuls into pot and cook another 20-30 minutes, until dumplings are cooked through.
~~~~~~~~~~~~~~~~~~~~~~~~~~~~~~~~~~~~~~~~~~~~~~
One of the poster's on Cooking for your Family had posted about free downloadable Taste of Home Magazines. I browsed them to see if I could find anything that caught my attention. My Mom had brought a bag of fresh cranberries, in hopes that I could use them up, before they went bad, so I was pleased when I found a recipe for Orange Cranberry Loaf. This turned out wonderfully. It has a slight sweetness that compliments the tart cranberries perfectly. The hint of caramel from the topping added a nice warmth to it all. We all enjoyed it and my Mom requested the recipe. I'm fixin' to make up another batch in the next few days, since I have more cranberries in the freezer.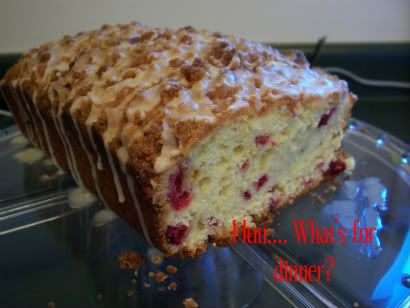 Kelsey's Favorite Cranberry Bread
Adapted from Taste of Home Magazine

2 C flour
3/4 C sugar
1 tsp salt
1 1/2 tsp baking powder
1/4 C cold butter
1 egg
3/4 C orange juice
2 tsp orange peel
1 C chopped cranberries
1/2 C golden raisins

Streusel:

1/3 C brown sugar
3 Tbs flour
2 Tbs butter

Glaze:

1/2 C powdered sugar
2 tsp orange juice

In a large bowl combine first 5 ingredients; cut in butter until crumbly. In a small bowl whisk egg, orange juice and peel. Stir into ingredients just until moistened. Fold in cranberries and raisins. Pour into a greased 8x4 inch loaf pan.

Combine brown sugar and flour; cut in butter until crumbly. Sprinkle evenly over batter. Bake at 350 for 55-65 minutes or until a toothpick inserted near the center comes out clean. Cool 10 minutes before remove from pan to a wire rack to cool completely.

For glaze combine powdered sugar and orange juice until smooth. Drizzle over bread.