I'm not a big ground beef fan, so when Mr.B requests spaghetti and meatballs for dinner, when Hubby is working, I cringe a little inside. Tonight was the case. We've been eating a lot of different foods lately and Mr.B hasn't been a big fan of them, so I wanted to make something he wanted for a change. I browsed meatball recipes on line and tried to recall what Hubby puts in his and I came up with a pretty good recipe, I think. The meatballs were seasoned just right, tender and juicy. I actually ate 3 without wanting to gag, so that must account for something, LOL. Mr.B cleaned his plate ( the first itme in weeks) and said they were the best meatballs ever. He says that about many of my dinners, but then proceeds to not eat what's on his plate, so I never know if I should take his comments at face value. Queenie and my nephew also ate with much gusto and I'm proud to report only 4 meatballs are left. If they make it until lunch tomorrow, we'll see if they meet Hubby's approval too.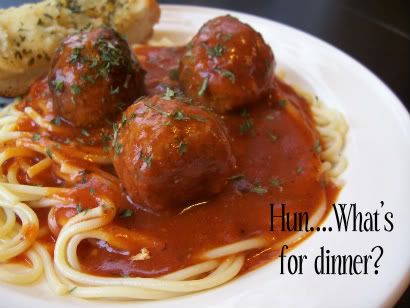 Meatballs

1 lb lean ground beef
1/2 C Italian seasoned bread crumbs
1/4 C grated Parmesan cheese
1 tsp oregano
1/2 tsp garlic powder
1/2 tsp onion powder
1/2 tsp salt
fresh ground pepper
1 Tbs Worcestershire sauce
1 egg

Mix all ingredients in a medium sized bowl. Try to make sure all is combined, without working the meat too much. Form into meatballs, about the size of a golf ball. Heat 1 Tbs olive oil in a large skillet or soup pot. Brown meatballs on both sides, making sure not to break any. Remove meatballs from pot and drain any remaining oil. Pour in 1 bottle of your favorite pasta sauce, making sure to scrape up any yummy brown bits at the bottom of the pot. Gently return meatballs to the pot and simmer in the sauce for 1 hr. Serve over hot cooked spaghetti.
Crock pot: Form and brown meatballs as above. Place meatballs in crock pot and cover with sauce. Cook on low for 6-8 hrs.