Well, this dinner was a hit and miss. I'm pretty sure it's partly my fault, for not rinsing the Quinoa properly. I forgot to rinse it until the water ran clear and just did a quick rinse. The result was a huge bitter mess. The Pilaf was virtually inedible. I thought adding salt to my serving would improve the taste, but it didn't. Mr.B and Queenie took one bite and refused to eat anymore, LOL. My nephew ( the sweet heart) choked down his first serving with soy sauce and attempted a second serving with Ketchup. He said it's quite bad when even Ketchup won't help, LOL. I'm very tempted to make this again, but am certain no one will want to try it.
The pork chops were great! I really enjoyed the way the savory Rosemary paired with the sweetness of the orange juice and the tangy saltiness of the mustard. We don't use mustard powder, so I simply replaced it for 1 tsp of yellow mustard. The chops came out sweet, tender and juicy. The pan was a bit difficult to clean, due to the sugar, but quite worth the effort.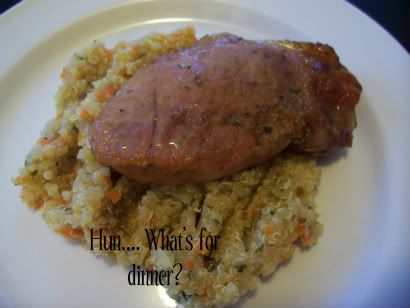 Quinoa Pilaf
Adapted from Allrecipes.com

1 tablespoon vegetable oil
1/2 cup chopped onion
2 carrots, chopped
1 cup quinoa, rinsed
2 cups vegetable broth
3/4 cup chopped walnuts
1/4 cup chopped fresh parsley

Heat oil in a saucepan over medium-high heat. Cook onion in oil for 5 minutes, or until translucent. Add carrot, and cook 3 minutes more. Stir in quinoa and vegetable broth, and bring to a boil. Reduce to a simmer, cover, and cook 15 to 20 minutes, or until quinoa is tender and fluffy. In a bowl, toss quinoa together with walnuts and parsley. Serve hot or at room temperature.


ORANGE GLAZED PORK CHOPS
Adapted from Cooks.com

6 pork chops
1/2 c. orange juice
1/4 c. brown sugar
1 tsp. salt
1/2 tsp. dry mustard
1/4 tsp. pepper
1 tsp. rosemary

Place pork chops in 9 x 13 inch pan. Mix other ingredients, except rosemary and pour over chops. Sprinkle with rosemary. Bake in preheated 350 degree oven for 45 minutes to one hour, depending on thickness.