This Cannelloni recipe was quite different than what we are used to. I thought it was good, but it didn't knock our socks off. It had a unique flavor, of tangy cheese and salty ham. This had been a Meal of the Week recipe (on CFYF) a few weeks ago, so I thought I'd give it a try, since we usually have most of the ingredients on hand. The ham smelled really good once you added in the Worcestershire sauce. The kids had mixed reactions about these; Queenie couldn't get enough of the ham filling, while Mr.B wouldn't even touch it. Hubby said it was good, but would be better if there was bacon added to it. It's a neat twist on a meal that could be altered in many ways. I served it with Hubby's favorite bread. I originally wanted to make Artisan bread, but Hubby requested Italian. So I got the bright idea of baking it like Artisan bread. It didn't turn out as well as I would have liked, since the dough spread out a bit too much. It also didn't crisp up as well as it usually does, which is a big reason for Hubby loving this bread. It was still good regardless, but next time I won't mess with a good thing, LOL.
Ham & Cheese Cannelloni
AdriaNAlly
Box of oven ready cannelloni
4 cans of flaked ham
6 cans of Campbells cheddar soup
milk
2 or 3 stalks of celery, finely chopped
1 onion finely chopped
butter or margarine
Worcestershire sauce to taste
Preheat oven for 400F. Saute onions, celery and margarine (use enough to make them soft and keep them moist...I don't know exact amount LOL)once onions/celery are soft, add flaked ham and mash down so no big chunks. Simmer on low, adding Worcestershire sauce, to your desired taste. Turn off, uncover and let cool down enough that you can stuff the cannelloni with your fingers.
While this is cooling, in a pot heat on low to medium heat the cheddar soup, adding milk until cheese is smooth, but not too thick or thin. *(I use a whisk for this to help loosen up lumps). In a long baking pan (I use cooking spray first to help from sticking), put enough cheese sauce to cover the bottom. Start stuffing cannelloni and putting them in the pan. This usually makes about 12 or more. If there is some meat left over, that's ok, keep it aside for now. Pour warm cheese sauce over top of cannelloni, making sure to get in between each one too. Sprinkle any left over meat on top.
Put in oven and bake for about 30mins, pull out and use a spatula to turn cannelloni over in the pan, try to make sure cheese sauce covers completely. Put back in oven for another 20mins then check with a butter knife or fork to make sure cannelloni is soft. Pull out and let sit for about 10mins.
Cindy's notes
: I transformed these into stuffed shells, instead of Cannelloni. I also only used 2 cans of Cheddar soup and that was plenty of sauce.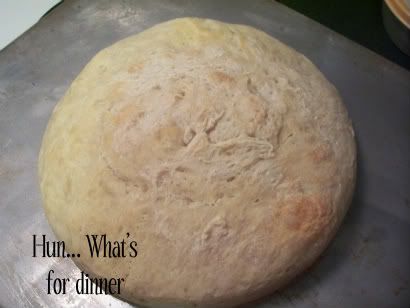 Italian Bread
- Bread Machine
Sandy
1 1/2 cups water
2 tsp sugar
3/4 tsp salt
3 1/2 cups bread flour
2 1/2 tsp yeast
Layer in bread machine pan according to manufacturers recommendation. Bake on the basic cycle. Makes a large loaf (2 lbs).Add a tablespoon or two of water if the machine sounds like it is struggling (dough may be dry).
Sandy's Notes
: Sub'd 1 cup of whole wheat flour for 1 cup of white bread flour, added about 3 T vital wheat gluten. Baked on the Rapid Whole Wheat cycle - awesome!