A Great way to jazz up mashed potatoes. Sometimes I just get bored with ole mashed potatoes, so I thought I'd give these a try. The recipe uses ingredients I usually always have on hand, so it's a great alternative to plain mashers. I found this recipe in the Cooking for your Family recipe box. The kids enjoyed them, so that is always a plus in my book. Slightly tart from the sour cream and Parmesan. Creamy and salty too. I didn't use the chives since I knew Mr.B wouldn't even think of touching them, if there were green bits throughout. They would taste even better with them in, I think. I didn't bake mine, since I was in a hurry, but am sure the crisp brown crust would taste wonderful!!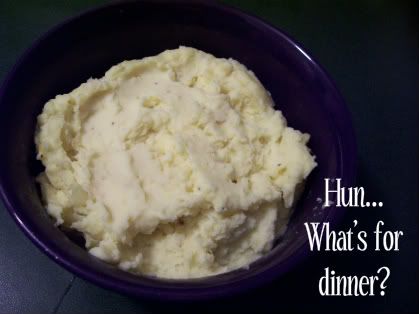 Midnight Mashed
Adapted by Katie from Quick Cooking
6 medium russet potatoes, peeled and cubed
2 garlic cloves, minced
1 tablespoon butter or margarine
1/2 cup milk
1/2 cup sour cream
2 tablespoons grated Parmesan cheese
2 tablespoons snipped chives
1 teaspoon salt
3/4 teaspoon onion salt
1/2 teaspoon garlic powder
1/4 teaspoon pepper
Place potatoes in a saucepan and cover with water. Bring to a boil. Reduce heat; cover and cook for 15-20 minutes or until tender. Meanwhile, in a small skillet, saute the garlic in butter. Drain potatoes and place in a large mixing bowl. Add garlic; beat until smooth. Add the remaining ingredients; mix well. Transfer to a greased 2-qt. baking dish. Bake, uncovered, at 350° for 35-40 minutes or until heated through. Yield: 8 servings.