Well we've had a few stressful days. With Thanksgiving in the U.S. we were suppose to entertain my Mother in Law and Hubby's cousin, who decided they'd like to come celebrate with us. Only one problem..... we now live in Canada and celebrated Thanksgiving last month. Hubby explained that to his mom and told them not to expect your traditional turkey, since we hadn't planned on celebrating a 2nd time. I felt guilty and decided to make a pie, to help it seem more like a holiday. I made the pie, only for our plans to change once again. We didn't have any company on November 26th, just yummy pie, LOL.
I attempted making a pumpkin pie, last month, for our Turkey Day. Let's just say it wasn't pretty. Hubby came home with sweetened condensed milk, rather than evaporated milk. I had already added the sugar to my pumpkin, so I couldn't use the condensed milk. I subbed half and half, but it just didn't turn out right. Since it was last minute and I really didn't feel like going to the store to buy evap milk, this time I searched for a recipe using the condensed milk. I found a super easy one and it was a great success. It will be my go to pumpkin pie, from now on. Creamy, not too sweet and not too many spices. Perfect with whipped cream.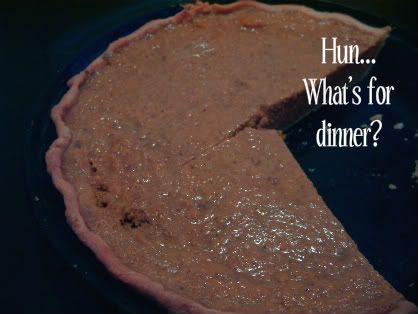 PUMPKIN PIE FOR BEGINNERS
Adapted from startcooking.com blog
1 can of pumpkin (15 ounces)
1 can of sweetened condensed milk (14 ounces)
2 eggs
3 teaspoons of pumpkin pie spice
1/2 teaspoon of salt
1- 9 inch unbaked pie crust
Preheat oven to 425 degrees. In a medium bowl whisk together eggs pumpkin, sweetened condensed milk, pumpkin pie spice and salt until smooth. Pour into unbaked crust and bake for 15 minutes. Cover the edges of the pie with tin foil.
REDUCE OVEN TEMPERATURE TO 350 and continue baking for 25-30 minutes or until a knife inserted 1 inch from the crust comes out clean. Cool. Garnish with whip cream. Cover and store leftovers in the refrigerator.
Cindy's notes
: I used pumpkin puree, which I had made a few months ago and put in the freezer.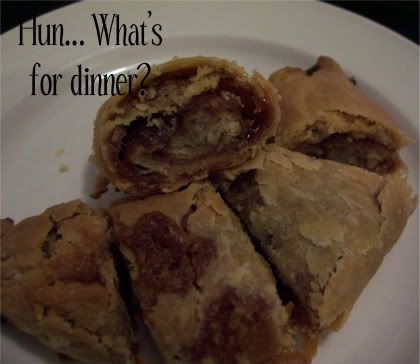 Oh, and I wanted to share an extra little treat. You know that leftover dough you get when you trim the edges off your pie crust??? Well all my life, my Mom would take that dough, roll it out thinly, slather with butter, sprinkle liberally with brown sugar and cinnamon, roll it up like a cigar and pinch the ends. Then she'd place it, seem down, in a crescent shape in a pie plate and bake it along with our pies (until golden brown). The result is a sweet cinnamony delight. I call them poor man cinnamon rolls. A neat way to not waste a bit of dough!