I finally got around to roasting my other sugar pumpkin the other night. It had been sitting outside for about a month, so I figured I should get to it. There had been a pumpkin recipe posted on this round of the Meal of the Week, on CFYF, so I was jazzed about being able to try them. I have this odd obsession with scones. For one, I think they are delicious and second, they make me feel all sophisticated when I make them, LOL. So I made these for breakfast yesterday. They are really good. Fluffy and soft inside. I would have liked a bit more sweetness and spice, but they are good non the less. The butter adds a nice tart saltiness to the sweet pumpkin. I didn't have dry cranberries, so I threw a handful of frozen berries in a sauce pan, with about 2 Tbs of sugar. I cooked them down until they had popped, then mushed them up and reduced until they were thick. I let that cool and mixed it with the butter. At first I forgot to add the powdered sugar to the butter, but after realizing it, I threw some in. It didn't make much of a difference, just made it smoother, LOL.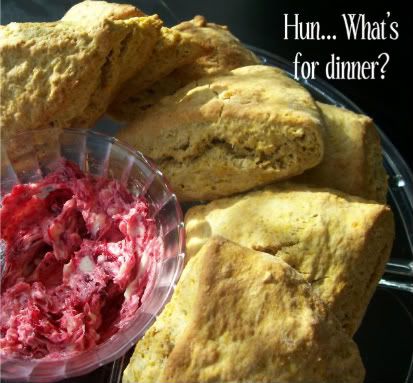 Pumpkin Scones with Berry Butter
Adapted from Taste of Home
BERRY BUTTER:
2 tablespoons dried cranberries
1/2 cup boiling water
1/2 cup butter, softened
3 tablespoons confectioners' sugar
DOUGH:
2-1/4 cups all-purpose flour
1/4 cup packed brown sugar
2 teaspoons baking powder
1-1/2 teaspoons pumpkin pie spice
1/4 teaspoon salt
1/4 teaspoon baking soda
1/2 cup cold butter
1 egg
1/2 cup canned pumpkin
1/3 cup milk
2 tablespoons chopped pecans, optional
Place cranberries in a small bowl; add boiling water. Let stand for 5 minutes; drain and chop. In a small bowl, beat butter until light and fluffy. Add confectioners' sugar and cranberries; mix well. Cover and refrigerate for at least 1 hour.
In a large bowl, combine the flour, brown sugar, baking powder, pie spice, salt and baking soda. Cut in butter until mixture resembles coarse crumbs. In a small bowl, whisk the egg, pumpkin and milk; add to crumb mixture just until moistened. Stir in pecans if desired.
Turn dough onto a floured surface; knead 10 times. Pat into an 8-in. circle. Cut into eight wedges; separate wedges and place on a greased baking sheet.
Bake at 400° for 12-15 minutes or until golden brown. Serve warm with berry butter. Yield: 8 scones (about 1/2 cup butter).
This post is linked to
Tasty Tuesdays