I had some frozen pumpkin leftover from Thanksgiving ( Canadians celebrate Turkey day in October) and I decided to try to make waffles with it. I knew for sure I would love them, since I LOVE pumpkin pie. I used my regular waffle recipe, substituting extra brown sugar, for the white and adding 3/4 C of pumpkin and some pumpkin pie spice. The flavor was really great, but I would have liked the waffles to be a bit more crisp. They were almost creamy, which isn't a bad thing, but crispy is better. I served them with apples that I simmered with brown sugar and cinnamon. Perfect Fall flavors!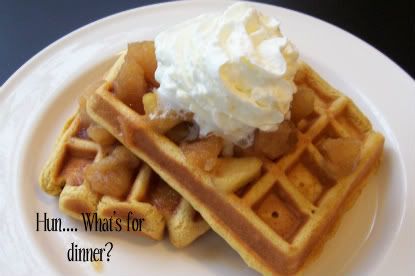 Pumpkin Waffles
4 Tbs butter, melted
2 eggs
3/4 C pumpkin puree
1 3/4C milk
1/4 C brown sugar
2 C flour
1 1/2 tsp pumpkin pie spice
3 tsp baking powder
1/2 tsp salt
Preheat waffle iron. Mix together the eggs, pumpkin and sugar, adding the melted butter and mixing well. Add dry ingredients and milk. Whisk well, to ensure no lumps. Pour batter from cup or pitcher onto center of hot waffle iron. Bake until steaming stops, about 5 minutes. Remove waffle carefully.
Brown Sugar Cinnamon Apples
3 large apples, chopped ( I like a mixture of MacIntosh and Granny Smith)
1 Tbs butter
1/4 C brown sugar
1/2 tsp cinnamon
1/4 C water
Mix all ingredients in a saucepan, over medium heat. Bring to a boil and simmer until apples are tender, about 5-8 minutes.