I've been
trying to get into the Autumn mood by cooking with more seasonal ingredients. I knew my nephew likes sweet potatoes, so I thought this would be a great recipe to try. It was really quite simple to put together and I like that you cook it all in the same pot. The pork came out tender and paired wonderfully with the sweet potatoes and apples. The kids aren't really crazy about sweet potatoes ( neither am I really), but I'm hoping that by cooking with them more often, we will come to love them. They are so full of nutrients that it's a shame not to take advantage of them. I used a mixture of McIntosh, Granny Smith and Golden Delicious apples. I really loved the flavor of the GD apples with the pork. Macs however are not a great choice, since they pretty much turned to mush. This is a great and hearty Fall weather meal.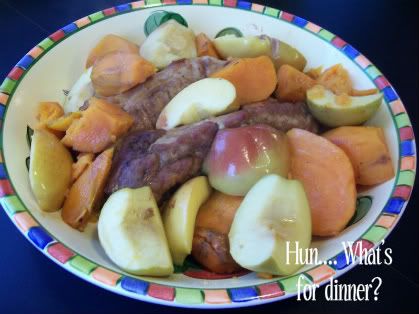 Roast Pork with Sweet Potatoes and Apples
Adapted from About.com
1 boneless pork loin roast, 3 to 4 pounds, fat trimmed
1 tablespoon vegetable oil
1/3 cup honey
1/4 cup orange juice
1/4 cup frozen apple juice concentrate, thawed
2 teaspoons ground black pepper
1 tablespoon brown sugar, packed
3 large sweet potatoes, quartered
3 large apples, cored and quartered
Preparation:Preheat the oven to 375°. Coat a large ovenproof Dutch oven with vegetable oil and place over medium-high heat. When very hot, add the pork roast. Cook, turning, until all sides are browned, about 6 minutes. Remove from the heat.
In a medium bowl, combine the honey, orange juice, apple juice concentrate, pepper, and brown sugar. Spoon over the pork roast. Place the sweet potatoes around the pork. Cover and bake for 2 hours. Pork should register about 150 ° on an instant read thermometer.
Place the apple quarters around the pork. Bake, uncovered, basting frequently, for 20 minutes, or until the apples are just tender. Let the pork stand for 10 minutes before slicing. Serve pork roast sliced, with the sweet potatoes and apples.