My mom was here for a week or so, taking care of the kids, while I had the flu. Thankfully it was not the swine flu, but it was just bad enough for me to be unable to do much of anything. By Thursday of last week my appetite had returned and I wasn't coughing nearly as much as I had been. While watching Food Network, I saw a guy make these amazing looking
Oatmeal cookies
and top them with ice cream. I immediately asked my Mom to make me some. After a quick on line search for the recipe, she got to work. She made them smaller than the recipe stated and we ended up with about 26 or so cookies. These are so soft and chewy. The tiny bit of cinnamon adds a comforting warmth to them too. In the recipe it didn't specify how much cinnamon to use, so we went with 1/2 a tsp. The perfect amount in my opinion.
Before leaving my Mom also notice I had the ingredients to make her favorite
Skor Toffee cookies
( Skor is a chocolate bar similar to Heath. Look for Toffee bits in your baking isle, by the chocolate chips). She couldn't pass up the opportunity, so she made up a batch of those as well. These are really good. Chewy and buttery. The kids were turned off by the buttery toffee flavor, but Hubby and I sure like them. Thanks Mom for coming to the rescue and spoiling us the way you do!!!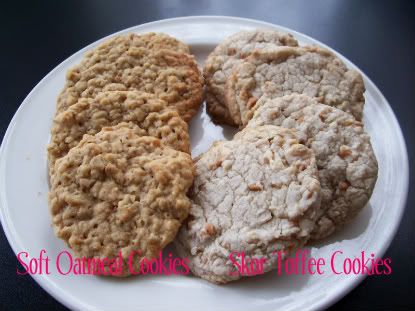 Soft Oatmeal Cookies
Adapted from Ricardo and Friends (Foodnetwork Canada)
1 1/2 cups unbleached all-purpose flour
1 tsp baking powder
1/2 tsp salt
1 cup unsalted butter, softened
1 1/2 cups brown sugar
1/2 tsp cinnamon
1 tsp vanilla extract
1 x egg
2 1/2 cups rolled oats
Vanilla ice cream
With the rack in the middle position, preheat the oven to 180°C (350°F). Line two baking sheets with parchment paper. In a bowl, combine the flour, baking powder, cinnamon and salt. Set aside. In another bowl, cream the butter with the brown sugar and vanilla using an electric mixer. Add the egg and beat until smooth. With the mixer on low speed, add the flour mixture. Stir in the rolled oats using a wooden spoon. With lightly floured hands, shape 75 ml (1/3 cup) of the dough into a ball. Place on a baking sheet. Repeat with the remaining dough, arranging 6 balls on each sheet. Press the balls until they are about 1 cm (1/2 inch) thick. Bake 1 sheet at a time for about 13 minutes; the centre of the cookie should still be soft. Let cool slightly. Using a spatula, gently transfer the cookies to serving plates. Garnish each with a scoop of ice cream.
Cindy's notes
: we made these smaller dropping batter by Tbs onto the cookie sheet. Bake for 10 minutes, for smaller cookies.
Skor Toffee Cookies
Lori (my sister in law)
1 box Butter Pecan cake mix
1 egg
1/2 C butter, melted
1 C Skor Toffee bits
Preheat oven to 350 degrees. In a bowl combine cake mix with the egg and melted butter. Mix until well combined. Add in toffee bits and drop by Tbs onto a cookie sheet. Bake for 10-12 minutes, until edges start to brown.