Last night's dinner was a bit of a challenge. It started off with Queenie being super crabby and clingy. Then to top it all off, I was out of bread crumbs!! Hubby had used them up making meatballs, a few weeks ago and forgot to mention we were out. I found out this little fact after I had pounded out the chicken, made the egg wash and seasoned the flour. So basically there was no going back. I looked in the cupboard to see what I could substitute and decided to go with Ritz crackers. I was a bit skeptical about the outcome, but was pleasantly pleased. I don't make chicken Parm very often, since I find it very time consuming, but I only had 3 chicken breast to work with, so figured this would be a good way to make them seem like there was more.
The first time I made Pasta Primavera was at my sister's house, many years ago. I was visiting for a few weeks and was making dinner for her and her family, to give her a break after work. I found the recipe in a Canadian Living cookbook. It was so simple to make that the recipe has stuck in my head this whole time. I like it because it's a great way to get a lot of veggies in, while enjoying one of my favorite foods; Pasta.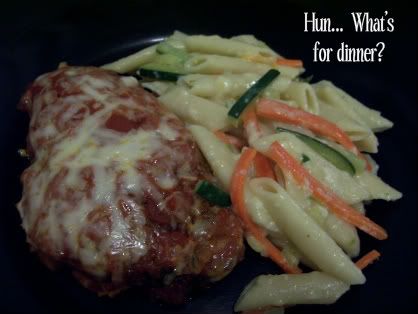 Chicken Parmesan
3-4 boneless skinless chicken breasts
1/4 C flour
salt and pepper
1 egg
2 Tbs water
1/2 C seasoned bread crumbs
1/4C Parmesan
1 jar of your favorite pasta sauce
6 oz mozzarella cheese, shredded
oil for frying
Preheat oven to 350 degrees. In a large Ziploc bag, pound out chicken to 1/2 an inch thick. Place flour in a shallow dish or pie plate. Season with salt and pepper. In a second shallow dish whisk together the egg and water. In a third shallow dish mix together the bread crumbs and Parmesan cheese. Add enough oil, to a large fry pan, to coat the bottom. Heat oil, over medium heat. Once oil is hot, take 1 chicken breast and dredge in flour. Then in the egg mixture and finally in the breadcrumb mixture. Repeat with each remaining chicken breast. Place in hot oil and cook on both sides until golden brown, 3-5 minutes each side. Once browned place chicken breast in a baking dish and cover with pasta sauce. Sprinkle with mozzarella and bake, covered, for 30-45 minutes; until internal temperature reaches 165 degrees. Let rest 10 minutes before serving.
Pasta Primavera
Adapted from Canadian Living Cookbook
2/3 box spaghetti
2Tbs olive oil
1 Tbs butter
1 clove garlic, minced
1 tsp onion powder
1 med zucchini, cut into thin strips
1 large carrot, cut into thin strips
1 rib celery, chopped
1 red pepper, cut into thin strips
1/2 C chicken broth
salt and pepper
2 Tbs butter
1/2 C Parmesan cheese
In a large pot of boiling water, cook spaghetti. Meanwhile in a large skillet heat oil and butter, over medium heat. Once butter starts to bubble add in garlic. Cook for 30 seconds, then add vegetables. Season with salt, pepper and onion powder. Cook for 5 minutes, stirring frequently. Stir in chicken broth and bring to a simmer. Cover and simmer until carrots are tender, but slightly crisp, 5-10 minutes. Once pasta is cooked, drain and return to pot. Add butter to hot pasta and toss to coat. Once vegetables are tender, add spaghetti to the skillet, along with the Parmesan cheese. Toss to coat and serve.
Cindy's notes
: I used Penne pasta, since that's what I was in the mood for. I also omitted the red pepper, since we didn't have any.