We volunteered to make treats, for Mr.B's Christmas party, tomorrow. I first made these cookies 3 yrs ago, for a cookie swap party. I thought the kids in Mr.B's class would get a kick out of them, and that he would love helping me make them. He was super excited and had to try real hard not to eat the candy, LOL. He was in charge of eyes and antlers and I think he did a fabulous job. I had originally bought M&Ms for the eyes and nose, but remembered that the school is peanut free. I had to quickly come up with an alternative. I rummaged through our remaining Halloween candy ( yes we still have some) and found a bunch of candy necklaces. I figured they would make great eyes. I cut the strings and we went to town. I used some red frosting for the noses. Since I only needed 2 dozen for school, we had a dozen left over, so we used the M&Ms on those. These cookies are crispy around the edges, but soft in the middle. They really aren't that sweet, so I figured that was a bonus for the kiddos.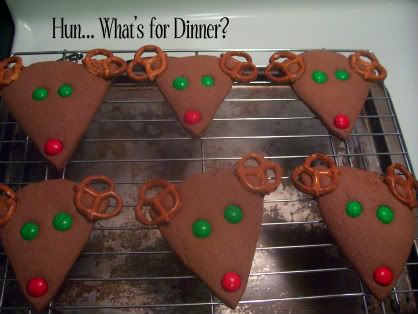 Chocolate Reindeer
Prep Time: 40 minutes
Refrigerate: 3 hours
Cook Time: 7 minutes per batch
Makes 3 dozen or 36 (1 cookie) servings.
3 1/4 cups flour
1/3 cup unsweetened cocoa powder
2 teaspoons McCormick® Cream of Tartar
1 teaspoon baking soda
1/2 teaspoon salt
1 cup (2 sticks) butter, softened
1 1/2 cups sugar
3 eggs
1 teaspoon McCormick® Pure Vanilla Extract
72 small pretzel twists
72 candy-coated milk chocolate pieces
36 small red gumdrops
1. Mix, flour, cocoa powder, cream of tartar, baking soda and salt; set aside.
2. Beat butter and sugar in large bowl with electric mixer on medium speed until light and fluffy. Beat in eggs and vanilla. Gradually stir in flour mixture until well mixed. Divide dough into 6 portions. Wrap in plastic wrap. Refrigerate about 3 hours or until dough is easy to handle.
3. Preheat oven to 375°F. On a lightly floured surface, roll each portion of dough into a 6-inch circle. Using a knife, cut each circle into 6 wedges. Place wedges about 2 inches apart on ungreased baking sheets.
4. For antlers, lightly press pretzels into the upper corners of each triangle. Press in chocolate pieces for eyes. For a nose, press a red gumdrop about 1/2 inch from the point.
5. Bake 7 to 9 minutes or until edges are firm. Do not overbake. Cool on baking sheets 1 minute. Remove to wire racks; cool completely.
Recipes tested and approved for McCormick by the Better Homes and Gardens® Test Kitchen.
This post linked to
Saturday Night Special
Recipe of the Week