I know this wasn't on my Meal Plan, but after going out in the -6 degree weather ( that's 20 degrees F), I just wanted something hot and comforting for dinner. I really love this recipe, since the filling is creamy and the biscuit topping is tender and soft. I love to spread butter on the hot biscuit topping and then mix everything together. SIGH....
This is a pretty quick recipe, using canned cream soup and frozen vegetables. It is quite similar to the Bisquick Pot Pie, except I use my Mom's Baking Powder Biscuit recipe to put on top. It just makes it feel more like home. I think it was just what we needed tonight, since we all ate with much enthusiasm, LOL. Great comfort food, for those cold winter nights.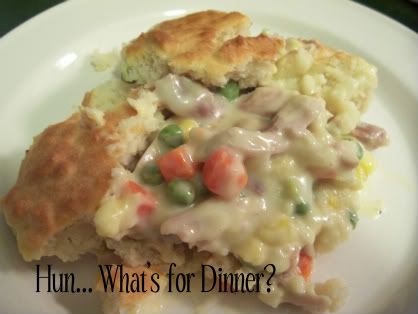 Chicken Pot Pie with Biscuit Crust
1 2/3 cup frozen mixed vegetables, thawed
1 cup cut-up cooked chicken
1 can (10 3/4 oz) condensed cream of chicken soup
1 can of milk
2 C flour
1/3 C shortening
1/2 tsp salt
1 Tbs baking powder
3/4 C milk (more if too thick)
Preheat oven to 400 degrees. In a bowl, whisk together the milk and soup, until smooth. Add in vegetables and chicken and mix well. Pour into a 9 inch pie plate. In another bowl, mix together the flour, salt and baking powder. Cut in shortening, until the mixture resembles coarse crumbs. Add the milk and mix well, adding additional milk if needed. The batter should be thinner than a biscuit batter, almost like a super thick pancake batter. Evenly spoon batter onto the soup mixture, trying to smooth is out, as much as possible. Bake uncovered, for 45 minutes, until bubbling and crust is golden brown.