Sometimes I'm just in the mood for good ole bar food. As was the case Tuesday night. Hubby was off, so we had planned to make homemade pizza. I on the other hand was craving zucchini sticks with ranch dressing. I knew the guys would never just agree to zucchini, so I also made battered mushrooms and homemade onion rings. Everything tasted wonderful! Sure we probably clogged our arteries up real good, with our double cheese, pepperoni, mushroom pizza and deep fried veggies, but I always say it's OK to indulge once in a while. Hubby mentioned that we need to tweak the batter recipe to add a few more spices to it, so we'll work on that next time we have deep fried veggies ( which really only happens once or twice a year, LOL). Notice the part of the pizza without toppings?? That was Mr.B's piece. He use to eat toppings, but this past year he has become a cheese pizza fan. No big deal, I just leave a corner of the pizza plain. I've yet to unpack all my cookbooks, so I've been trying out new pizza dough recipes. This is my favorite so far. I only have a picture of the onion rings, since my camera died and I lost a few pictures in the process.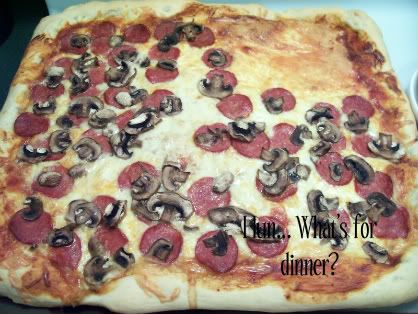 Master Pizza Dough
Submitted by Amy

Makes 1 (14-inch) thick-crust pizza or 2 (12-inch) thin-crust pizzas.

3 to 3 1/2 cups all-purpose flour
1 package FLEISCHMANN'S RapidRise Yeast
3/4 teaspoon salt
1 cup very warm water (120 to 130F)
2 tablespoons olive or vegetable oil
Cornmeal

In large bowl, combine 2 cups flour, undissolved yeast, and salt. Stir very warm water and olive oil into dry ingredients. Stir in enough remaining flour to make soft dough. Knead on lightly floured surface until smooth and elastic, about 4 to 6 minutes. Cover; let rest on floured surface10 minutes. Lightly oil 1 (14-inch) or 2 (12-inch) round pizza pan(s).** Sprinkle with cornmeal. Shape dough into smooth ball. Divide and roll dough to fit desired pan(s). Bake in preheated hot oven (450)for about 10-15 minutes.

Amy's Notes: Honestly, I think this recipe is so easy, I just mix it with a spoon at first and then switch to using my hands. I only knead until it is smooth --probably about 4 or 5 minutes. test it after a few minutes to see if you can pull a piece of the dough into a thin, tight membrane that you can see light through. If it breaks before you can get it there, knead some more

TO FREEZE: Just put the dough into a ball, put a very light coat of olive oil on it, then place it in two plastic bags, tied tightly. It will keep in the freezer for about 3 months. When you need to use it, simply take it out and thaw.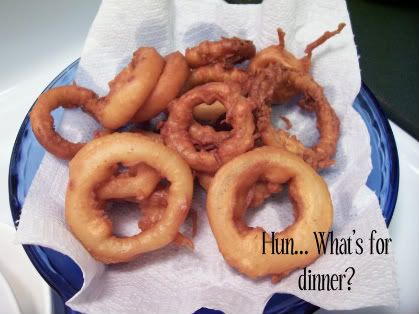 Deep Fried Vegetables
Adapted from Cooks.com

1 c. sifted flour
1 tsp. baking powder
1/2 tsp. salt
1 egg, lightly beaten
1 c. milk
2 tbsp. oil
1 lb of veggies such as zucchini ( cut into 3-4 inch sticks), mushrooms, onions (sliced into rings), cauliflower (cut into florets) or dill pickle (sliced).
Additional flour (optional)
Oil for deep frying

Heat oil to 375 degrees. In a medium bowl combine flour, baking powder and salt. Add egg and milk and whisk until smooth. Toss the veggies with flour, then dip into the batter. Gently drop battered veggies into the oil, making sure to not over crowd the fryer, since they will stick together. Cook until golden brown on both sides. Remove and drain on paper towels. Serve veggies with your choice of Ranch dressing, Ketchup or marinara sauce for dipping.