I've probably mentioned, in previous posts, that I don't really like sweet potatoes. I really don't know why, since I love sweets. I just can't seem to get the feel for these sweet potatoes. Regardless, I keep buying them and trying them again. Mainly because Hubby and my nephew like them so much. One of my fellow group owners on CFYF also has a blog, which I follow. I love her blog,
Ms.enPlace
, because she's from Louisiana and she has a wonderful personality. I also like to see what Cajun dish she is cooking and what spin she puts on dishes. So, I saw this recipe for sweet potatoes around Thanksgiving time, and thought, maybe this would finally be a way of me liking them. I mean how can you not like something covered with brown sugar, nuts and butter??? So I gave it a try. I used fresh sweet potatoes instead of canned, because well frankly I don't even think we carry canned yams here, in Southern Ontario. We probably do, I've just never looked for them, LOL.
These were really good. I especially like the contrast between the crunchy topping and soft sweet potatoes. The kids are still unconvinced that sweet potatoes are good, so they turned their noses up at it, after the one bite rule. Hubby and my nephew must have liked them, since there is only a tiny bit left this morning. This would be a really great alternative to sweet potato casserole, for Thanksgiving. Thanks MM for sharing your awesome recipe with us.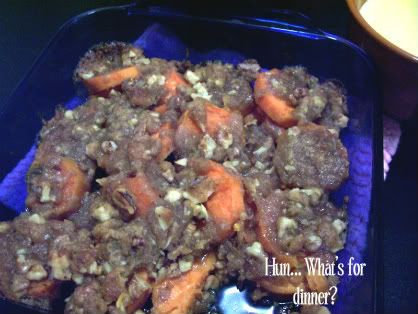 Praline Yams
Ms. EnPlace, adapted from Sugary Sam's Sweet Potatoes
1 40 oz can cut sweet potatoes, drained
1/2 cup chopped pecans
1/2 cup firmly packed brown sugar
1/4 cup flour
1/4 cup butter, melted
Heat oven to 350. Place drained yams in an ungreased 2 qt casserole or baking dish. (Note: I like to spread the yams out even more in a larger dish so that the topping is more evenly distributed) If some pieces are too large, cut them to the size you'd like. In a small bowl, combine remaining ingredients; blend well. Sprinkle over yams. Bake at 350 for 35-45 minutes or until bubbly.
Cindy's notes
: I used fresh sweet potatoes that I boiled until fork tender, then sliced about 1/4 inch thick.