My Mother in Law treated us to lunch at Panera Bread, before leaving a few weeks ago. While there I picked up a few of their recipe cards. One was for Broccoli Potato Soup. The temperature had turned chilly once again, after teasing us with a few days of warmer weather. So I decided soup would be great for last night's dinner. Now one of my big problems is, I usually only read ingredients in a recipe, before deciding if I want to try it or not, LOL. I hadn't read the puree in a food processor part, and really didn't feel like going through all that trouble, so I improvised. I also wanted a creamy soup, so I used milk, for half the liquid in the recipe. So this is not the original Panera Bread recipe, but Cindy's version.
Broccoli Potato Soup
5 large russet potatoes, peeled
2 garlic cloves, minced
3 C chicken broth or stock
2 C milk
1/4 C grated Parmesan cheese
1/4 C grated Cheddar cheese
1/2 lb fresh broccoli, chopped
Cut peeled potatoes into 1 inch cubes. In a large pot, boil potatoes in chicken broth with garlic, until tender, about 15 minutes. Skim any froth off. Remove cooked potatoes with a slotted spoon. Add milk and broccoli. Bring to a boil and simmer until broccoli is tender, 5-10 minutes. Meanwhile mash potatoes. Once broccoli is tender, stir in mashed potatoes, Parmesan and Cheddar cheese. Stir until cheese is melted.
~~~~~~~~~~~~~~~~~~~~~~~~~~~~~~~~~~~~~~~~~~~~~~~~~~~
I was searching one of my dessert cook books, for a certain cookie, when I came upon this recipe. I had dog eared it, with intentions of making it, ages ago. Since it was a cold day, the kids were napping and we had no dessert in the house, I thought why not. This is more of a cake, than a bar, so I'm not sure why they titled it a Bar. Anyway, this is a really good dessert. It's so moist that it's hard to believe it is not a box mix. The raisins add a nice little surprise throughout and the spices are not over powering. Mr.B loved it, but then again, what child doesn't like cake with frosting, LOL.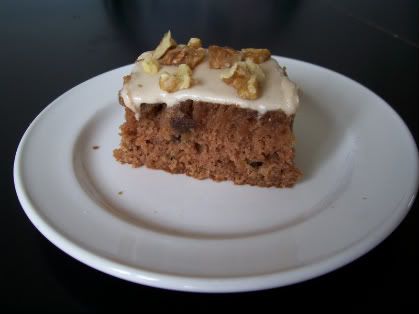 Applesauce Raisin Bars
Bars
1 C sugar
1/3 C butter, softened
1 egg
1 1/2 C flour
1 1/2 C apple sauce, unsweetened
1 tsp allspice
1 tsp cinnamon
3/4 tsp baking soda
1/2 tsp salt
1/2 C raisins
Frosting
1/4 C butter, softened
2 C powdered sugar
1/8 tsp allspice
1/8 tsp cinnamon
2 Tbs milk
2 tsp vanilla
1/2 C chopped pecans
Heat oven to 350 degrees. In a large mixer bowl combine sugar, 1/3 C butter and egg. Beat at medium speed, scraping bowl often, until creamy ( 1-2 mins). Reduce speed to low; add flour, applesauce, allspice, cinnamon, baking soda and salt. Continue beating, scraping bowl often, until well mixed ( 2-3 mins). By hand, stir in raisins. Spoon batter into greased 13X9 inch baking pan. Bake for 25-35 minutes, or until toothpick inserted in center comes out clean. Cool completely.
In a small bowl combine all frosting ingredients, except the nuts. Beat at medium speed, scraping bowl often, until smooth. By hand, stir in pecans. Frost cooled bars and cut into bars.
Yield:48 bars
Cindy's notes
: I used Country Crock margarine, instead of butter in both the cake and frosting. I also cut the sugar in the bars to 3/4 C and it's still plenty sweet.