My girlfriend threw a Mardis Gras party, this past Tuesday. It was a kid friendly party, so nothing crazy to report, LOL. As soon as I got the invitation, I knew I had to ask Michelle for recipes. I know Michelle from the cooking board on Baby Center. She is originally from Louisiana, and has recently moved back. She also has a food
blog
, which I think is wonderful, since she goes into history of food, etc. So I asked her for recipes and decided to go with Mississippi Mud Pie. You know me and desserts, LOL. After hearing what others were bringing, I also decided to make Maque Chou, to give us more savory choices.
The
Maque Chou
was great. Think of it as spicy cream corn. Hubby also enjoyed it, so that was a plus. Mr.B and Queenie thought it was too spicy, even though I cut down on the Cajun seasoning. This is such a simple dish, but full of flavor.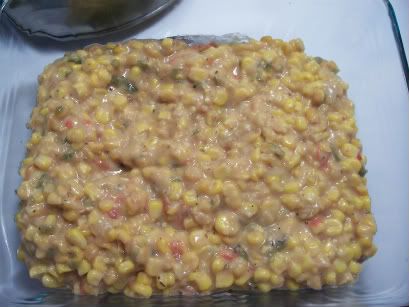 Corn Maque Chou
Michelle
12 ears fresh corn, or sub. 2 cans whole kernel and 1 can cream style corn
1 large onion chopped
1 green bell pepper, chopped
1 ripe tomato, diced small
1 clove garlic, minced1 cup milk
1 stick butter or margarine
Cajun seasoning or salt, pepper and cayenne, to taste
Cut corn off cob and scrape cobs to get all the juice. Heat butter in a dutch oven, add onion, bell pepper and garlic and saute until tender. Add corn and juices, tomato, and seasonings. Cook mixture over medium heat for 1 ½ hours. Stir frequently, adding a little milk throughout the process to keep the mixture moist and soft.
Cindy's notes
: I used a bag of frozen corn and 1 can of cream corn, instead of fresh or canned.
The
Mississippi Mud Pie
was also delicious. There is still several pieces in the fridge ( insert devil smiley here). I thought the crust could be more sweet, so if I make this again, I'll add more sugar. The directions were a bit off and I had to ask Hubby for his opinion. He straightened them out for me and it turned out great. Chocolaty and creamy, YUM!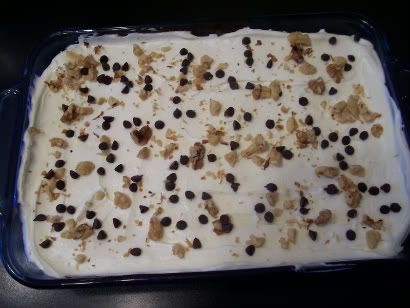 Mississippi Mud Pie
Crust
1 cup flour
dash of cinnamon, nutmeg, sugar
1 block butter not margarine (8 tblsp)
1 cup nuts your choice I use pecans, finely chopped
Topping
1 block cream cheese
1/2 cup powdered sugar
4 tbsp whipped cream
2 packages 6 oz instant chocolate pudding
3 cups milk
In a bowl, combine butter, flour, sugar, cinnamon and nutmeg until crumbly. Add finely chopped pecans and press into a 9X13 pan. Bake crust for 30 minutes or lightly brown, remove from oven and cool completely. Blend the cream cheese, powder sugar and whipped cream. On the side mix the pudding and milk till thickened. Add pudding to crust and top with cream cheese/whipped cream mixture. Add nuts (and chocolate curls) to top. Keep refrigerated. You can double the recipe for larger crowds. Enjoy!! Could be served with other holiday desserts or prepared in smaller pie tins for individual servings at kids parties or church fundraisers.