Hubby was home for dinner on Monday, so he suggested fish for dinner. After working in a seafood restaurant for 5 yrs, he has developed an awesome Beer Batter for fish. It comes out fluffy, crispy and golden brown; something you'd find in a really great seafood restaurant. So when I feel like indulging with fish, I go to this recipe. We usually use it with big fillets of Cod or Halibut. Mr.B is our little fish monger, so he gobbled this up, like any other type of fish we set before him. Queenie also loved it, though not as much as pasta or bread, LOL.
Beer Batter
1 12 oz can Beer (light or regular)
1 1/2 cups Flour
1/2 tsp Salt
1 tsp Paprika
1 cup Flour
Pour the beer into a large bowl. Sift the flour, salt, and paprika into the beer, whisking until the batter is light and frothy. (The batter may be used immediately or stored in the refrigerator for up to 1 week, but be sure to whisk it occasionally). Heat at least 2 inches of oil in a frying kettle or electric fryer. Just before it reaches 375F, quickly dredge the fish and shrimp with flour, shaking of excess then dip in the beer batter, coating well, and drop them into the hot fat (do this in 2 batches). When they are brown on one side - less than 1 minute - turn and brown them on the other side. Drain on paper towels. Serve hot with lemon wedges.
~~~~~~~~~~~~~~~~~~~~~~~~~~~~~~~~~~~~~~~~~~~~~~~~~~~
Since Hubby would have evenings off this week, we decided to rent movies, to watch once the kids were in bed. There is nothing I like more, than snuggling with Hubby, watching a movie and having a yummy snack. So I made Apple Crisp for 2, to enjoy just the 2 of us, kid free, LOL. I had come across a crisp topping using brown sugar, in my Cooking Pleasures Magazine. I thought it would pair up nicely with apples, so I tried it. I added oatmeal to make it healthier and crunchier, LOL. Let's just say I had to fight for the last bite.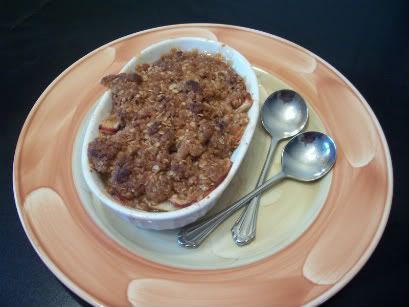 Apple Crisp for 2

2 large Granny Smith apples, cored, peeled and sliced
3 Tbs sugar
1/4 tsp cinnamon
dash of cloves
a squeeze of lemon juice
2 Tbs butter, room temp
3 tbs flour
2 Tbs brown sugar
1/4 C quick cooking oatmeal
In a small bowl, toss apples with sugar, cinnamon, cloves and lemon juice. Place apples in a 1 quart gratin dish, or small baking dish. In a second small bowl, mix brown sugar, flour and oatmeal. Cut in butter, until mixture resembles coarse crumbs. Sprinkle topping over apples and bake in a 350 degree oven, for 45 minutes, to an hour. If topping begins to brown too deeply, cover with foil and continue baking until apples are tender.