Tiny fingers sneaking in her to play with the keys, LOL. This chicken recipe was making rounds a few months ago on the Cooking for your Family board. We never buy buttermilk, so I never thought of trying it. Since I had bought buttermilk for the Buffalo Chicken Salad dressing (see previous post for recipe), I decided to see what all the hoopla was about. I'm not too sure what I did wrong, but my chicken was a soggy icky mess. I had to scrape the breading off of my piece. Of course I have this weird problem with eating soggy things, so it could just be me. I poured the sauce over the whole chicken, which I'm sure contributed to the problem. Even if I would have done as the recipe stated and poured it around the chicken, it still would have been soggy. The sauce was killer though, LOL. I really enjoyed it on my mashed potatoes.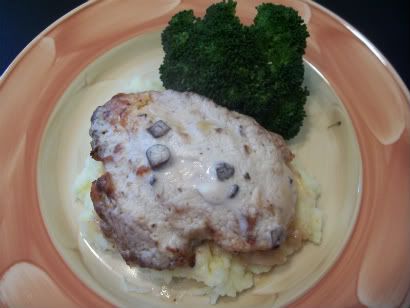 Buttermilk Baked Chicken
Niki
4 chicken breasts
1 1/2 c. buttermilk
3/4 c. flour
1 1/2 tsp. salt
1/4 tsp. pepper
1/4 c. butter
1 can cream of mushroom soup
Dip chicken in 1/2 cup buttermilk and roll in flour seasoned with the salt and pepper. Put butter in 13x9x2 inch baking pan and melt in hot oven (425 degrees). Put chicken in pan and bake 30 minutes. Turn and bake 15 minutes.Mix remaining buttermilk and the soup and pour around the chicken. Bake 15 minutes longer until tender.
~~~~~~~~~~~~~~~~~~~~~~~~~~~~~~~~~~~~~~~~~~~~~
This is the best Banana Loaf in the entire world, LOL. I've made this countless times, but never had enough time to take a picture of it. This is now my go to banana bread recipe. I'll occasionally do old school banana bread, but this is my favorite by far. It comes out so moist and the chocolate flavor is heavenly. I found this gem in an issue of the Cooking Pleasures Magazine, I get through the cooking Club of America. I don't often find a recipe that I make almost every month, LOL.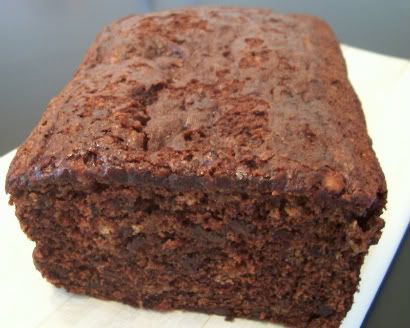 Double-Chocolate Banana Bread
Adapted from Cooking Pleasures Magazine
1 cup sugar
2 eggs
1/3 cup vegetable oil
1 1/4 cups mashed ripe banana (about 3)
1 teaspoon vanilla extract
1 1/2 cups all-purpose flour
1/2 cup unsweetened cocoa
1 teaspoon baking soda
1 cup semisweet chocolate chips
1. Heat oven to 350°F. Spray bottom of 8x4-inch loaf pan with cooking spray.
2. Beat sugar, eggs and oil in large bowl at medium speed until combined. Beat in banana and vanilla at low speed. Combine flour, cocoa and baking soda in medium bowl; beat into banana mixture at low speed just until combined. Stir in chocolate chips.
3. Spoon batter into pan. Bake 60 to 70 minutes or until toothpick inserted in center comes out clean. Cool 10 minutes. Remove from pan; cool completely on wire rack.
1 (16-slice) loaf
PER SLICE: 215 calories, 9 g total fat (3 g saturated fat), 3 g protein, 34 g carbohydrate, 25 mg cholesterol, 90 mg sodium, 2 g fiber