The weather is starting to cool off, here in Southern Ontario. Flu and cold season is also upon us and we've been afflicted by the first cold of the season. When I'm feeling sniffly and achy, all I want to eat is something warm and comforting. Soup and fresh bread top the list of comfort foods in our house. Though the kids are resistant at times, I've found a few soup recipes that they will eat. This recipe was once again posted on
Cooking for your Family
. It really is a great place to find recipes and the women there are so friendly and helpful. But I digress.... I had some baked potatoes leftover from the other night, so thought this recipe was a perfect way to use them up. The soup is rich and creamy, with a slight saltiness from the bacon and tanginess from the sour cream. We love bacon, so I always use 1/2 a pound in this recipe, LOL. It was just what we needed last night and ate every last drop.
When I think soup, the first thing that comes to mind is nice warm bread. I have a huge file of bread recipes. Though I have my favorites, I try to make new recipes here and there. I really can't remember if I tried this recipe before. I must not have, because I would be making it once a week if I did. This bread is exactly like what you would find in your local bakery. The inside was light, fluffy and cottony soft. This would make excellent sandwich bread. This recipe reminds me of the bread my mom use to make for use, while growing up.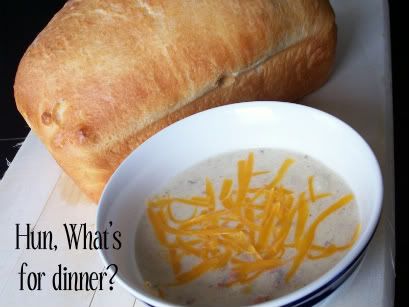 Baked Potato Soup
Submitted by mommy92005 (adapted from pampered chef cook book)

4 med. Baked potatoes
2 slices bacon
½ cup celery
1 can chicken broth
1 ½ cups milk1 garlic clove
½ tsp salt
¼ tsp pepper
1 cup light sour cream
½ cup cheddar

Remove skins from potatoes (baked) and mash them Cook bacon over medium heat until crisp. Remove bacon to paper towel, crumble and set aside. Keep the drippings in the pan (1/2 tbsp) Chop celery in the food processor Add chicken broth, milk, potatoes, celery, garlic, salt and pepper to drippings in pan. Bring to a boil. Reduce heat and simmer 10 min. Stir in sour cream and reserved bacon. Add cheddar to top. Serve

Cindy's notes: I used 1/2 a pound of bacon, since we love bacon. I also threw in some cubed raw potato, since I like chunks of potato in my soup. I probably used more liquid than specified, since I was feeding 2 grown men, LOL.

Ultimate White Bread - Bread Machine
submitted by Sandy

3/4 cup water
2 1/2 T margarine or butter
1 egg
2 T sugar
1 tsp salt
3 cups bread flour
1/4 cup nonfat dry milk
1 1/2 tsp yeast

Layer in bread machine per manufacturer's instructions. Makes 1 1/2 pound loaf.