I love fresh bread. The smell, look, feel and taste of it, is a comfort to me. Most of the time, I have to avoid the bakery department at the grocery store, so I won't come home with tons of yummy fresh bread. For many years now, I've been wanting to find a recipe, that resembles bakery Italian bread. I've made Italian bread many times and though it was delicious, it just didn't have that certain taste and quality, that bakery bread has. Then one day, on Cooking for your Family, someone was searching for an amazing Italian bread recipe. This recipe was one of the responses and I was intrigued, since it contained brown sugar and was a free form bread. I quickly saved the recipe and was finally able to try it, last week. I must say that it is amazing bread! It really does taste like something you'd bring home from the bakery. The outside is nice and crispy, while the inside is soft and chewy. This would be excellent to make homemade garlic bread, which I may attempt for tonight's dinner. Definitely will become a staple in our household.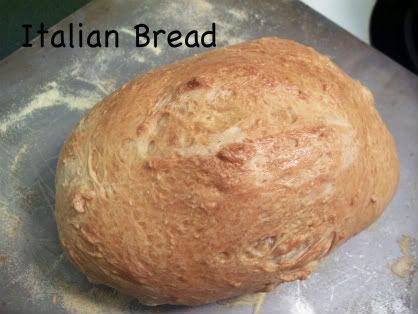 Italian Bread
- using a bread machine
Submitted by Mags via allrecipes.com
4 cups unbleached all-purpose flour
1 tablespoon light brown sugar
1 1/3 cups warm water (110 degrees F/45 degrees C)
1 1/2 teaspoons salt
1 1/2 teaspoons olive oil
1 (.25 ounce) package active dry yeast
1 egg
1 tablespoon water
2 tablespoons cornmeal
Place flour, brown sugar, warm water, salt, olive oil and yeast in the pan of the bread machine in the order recommended by the manufacturer. Select dough cycle; press Start.
Deflate the dough and turn it out onto a lightly floured surface. Form dough into two loaves. Place the loaves seam side down on a cutting board generously sprinkled with cornmeal. Cover the loaves with a damp cloth and let rise, until doubled in volume about 40 minutes. Meanwhile, preheat oven to 375 degrees F (190 degrees C). In a small bowl, beat together egg and 1 tablespoon water. Brush the risen loaves with egg mixture. Make a single long, quick cut down the center of the loaves with a sharp knife. Gently shake the cutting board to make sure that the loaves are not sticking. If they stick, use a spatula or pastry knife to loosen. Slide the loaves onto a baking sheet with one quick but careful motion. Bake in preheated oven for 30 to 35 minutes, or until loaves sound hollow when tapped on the bottom.
***
Mags notes
: I skip using the cutting board for rising...just put the cornmeal directly on the baking sheet & let it rise there. Then pop in the oven.