A girlfriend of mine helped her 7 yr old daughter, make apple pie the other day. Ever since she mentioned it, I had been craving it. I found a bag of Granny Smith apples in the cold storage room, so I was even more determined to make some. The only problem was, I didn't know if we still had pie dough in the freezer. Making and rolling out pie dough is one of the things I am horrible at. No matter how hard I try, the dough either is too dry, therefore cannot roll out properly, or turns out hard as a rock once baked. My Mom had made a huge batch of dough, when she was here in Nov and I wasn't sure if I had used it all. Well there was enough for 1 crust. So what do you do when you want apple pie and only have a bottom crust?? Make Dutch Apple Pie!! I did a quick online search and found a recipe that intrigued me. So in the kitchen I went and about 90 minutes later, we had a hot delicious apple pie cooling on the counter. It tasted amazing! The apples still had a slight bite to them and the brown sugar added a nice caramel-y warmth. Served with vanilla ice cream, it was pure heaven. It was totally gone by the end of the night, even though the kids only ate the ice cream and left the pie in their plate, LOL.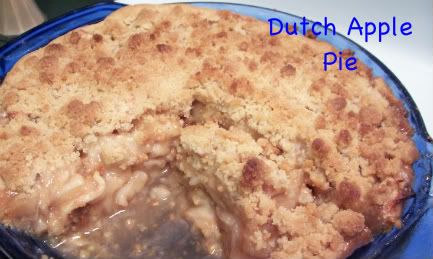 DUTCH APPLE PIE
Adapted from Cooks.com
5 1/2 c. fresh, peeled, sliced cooking apples
1 tbsp. lemon juice
1/4 c. light brown sugar
1/4 tsp. salt
1/4 tsp. ground nutmeg
1/2 c. sugar
3 tbsp. all-purpose flour
1/2 tsp. ground cinnamon
Preheat oven to 375 degrees. Combine sliced apples, lemon juice, 1/2 cup sugar, 1/4 cup brown sugar, 3 tablespoons flour, salt, cinnamon and nutmeg. Mix well and spoon into crust.
TOPPING:
3/4 c. all-purpose flour
1/4 c. light brown sugar
1/4 c. sugar
1/3 c. butter
Mix remaining flour, brown sugar and butter with fork until crumbly. Sprinkle topping mixture evenly over apples. Bake on baking sheet until topping is golden and filling is bubbling, about 50 minutes. Cool thoroughly on wire rack (at least 4 hours). Serve at room temperature.