There is just something comforting about a creamy soup, with smoky bacon. That's why I make potato soup at least once a month. It's become one of my favorites and the kids love it too, so that is a bonus, LOL. This recipe has been very popular on
Cooking for your Family
. I first made it a few years ago, but since my crock pot died last year, I totally forgot about it. I can't say enough, how happy I am, that my parents got me a crock pot for Christmas. It has helped tremendously with dinner, since I haven't been feeling the greatest lately. So, I threw this soup together last week, for dinner. Just as I remembered, it was delicious. The cream cheese gives it a slight tanginess, that pairs well with the smoky bacon. I like thick potato soup, so I spooned about half the potatoes out, mashed them and returned them to the crock, before serving. Paired with your favorite fresh bread, this dinner can't go wrong.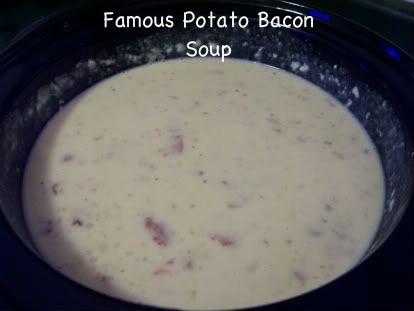 Famous Potato Bacon Soup
(crock pot)
Submitted by Amy
8 cups coarsely chopped peeled potatoes
1 small onion, chopped (1/3 cup)
1/2 pound bacon, crisped, drained, and crumbled
1 (8 oz) pkg. cream cheese, softened
3 cans (14.5 oz) each reduced-sodium chicken broth
1 (10.75 oz) can condensed cream of chicken soup
1/4 tsp. pepper
In a 4-qt. crock, stir together the potatoes and onion. Stir in the bacon. In a large mixing bowl, combine the cream cheese, chicken broth, cream of chicken soup, and the pepper. Add the mixture to the crock.
Cover and cook the soup on low heat for 8-10 hours or on high heat for 4-5 hours. If you like, mash the potatoes slightly for a thicker consistency before serving.
Cindy's notes
: I was out of cream of chicken soup, so I subbed in a can of chicken gravy. Worked like a charm!!
This recipe linked to
Crock Pot Wednesday
Frugal Food Thursday