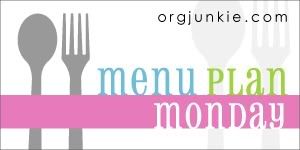 Happy Monday! We just spent a wonderful 3 day weekend with Hubby home. It was great to have some much needed family time and I got a few nights off, on the cooking front. This week shouldn't be too stressful. Hubby is off again on Tues/Wed and we have a friend coming for dinner on Wed. I'm looking forward to Hubby's homemade Ravioli, in a blush sauce. One of my favorites so far. So here is my menu for this week. In no particular order....
Kraft Mac'n'Cheese, with hot dogs and peas
Chicken Paprika with buttered noodles (new)
DH's homemade ravioli with tossed salad
Great Northern Bean soup with Garlic Cheddar Biscuits (new)
Leftovers (2X)
Spaghetti and Meat Balls
Once again I'm participating in the
Organization Junkie's
Meal Plan Monday. So head on over to check out tons of other meal plans.