Someone reviewed this on
Cooking for your Family
and it caught my interest. With the holidays being over and the bills coming in, I've been trying to cook with ingredients we already have in the house. This recipe was perfect for that. Think of it as Tuna pot pie, LOL. It was surprisingly very delicious. I thought it may taste too fishy, but no. Hubby mentioned it almost had a seafood taste to it. It was such a snap to throw together too, so you know that is always a bonus. Queenie absolutely loved it, having two helpings. Mr.B wasn't a fan though, he has some odd aversion to casseroles..... It was a tasty and comforting dinner and I plan to make it again, substituting canned salmon, for the tuna.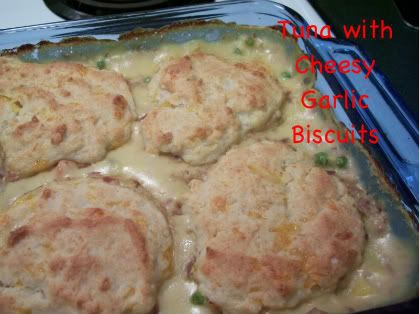 Tuna with Cheesy Garlic Biscuits
Submitted by Rachel
1 large can tuna, drained and flaked
1 can cream of chicken soup
1 1/2 cups frozen mixed veggies, thawed
2/3 cups milk
1 tsp onion flakes
Biscuits:
1 1/4 cups Healthy Bisquick Mix
1/3 cup shredded cheddar cheese
1/2 cup milk
2 T butter
1/8 tsp garlic powder
Oven 425 degrees Mix tuna, soup, veggies, onion flakes, and 2/3 cups milk in ungreased 11x8 dish. Bake uncovered 20 minutes.
Meanwhile, stir Bisquick, cheese, garlic, melted butter, and 1/2 cup milk until soft dough forms. Drip dough by 6 spoon fulls onto hot tuna mixture. Bake uncovered 10-12 minutes until biscuits are brown.