I still have a few bags of wild blueberries in the freezer. That's what I like about living in Ontario, blueberries grow pretty much everywhere. My Dad picked a ton last summer, and he was nice enough to share some with us. I like to use them in muffins, pancakes, waffles or any desserts really, LOL. I had some bananas in the freezer as well, so I decided to whip these babies up, after someone reminded me of them on
Cooking for your Family
. These are quick to make and taste wonderful. Fluffy and moist, with just the right amount of sweetness. Before adding the blueberries, I separated the batter in half, and added 1/2 C of chocolate chips to the other half of the batter. The best of both worlds; blueberries with bananas and chocolate chips with bananas!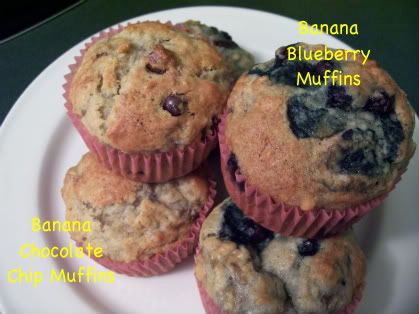 Banana Blueberry Muffins
Submitted by Dusanka
3 large ripe bananas
3/4 cup sugar
1 egg, slightly beaten
1/3 cup melted butter
1 cup fresh or frozen blueberries
1 tsp baking soda
1 tsp baking powder
1/2 tsp salt
1-1/2 cups flour
Mash bananas in a large mixing bowl. Add sugar and egg. Add butter and blueberries. Combine dry ingredients and gently stir into banana mixture. Pour into 12 well-greased muffin cups. Bake at 375 degrees for 20 minutes.
Makes 12 muffins