I'm always on the lookout for new soup or stew recipes. I just love them. So I was delighted to find a whole section of soups and stews in the new cookbook I got. I knew for sure I wanted to try this one out, since it uses ingredients I always have on had. It was really delicious! Creamy and sweet due to the corn and smoky salty, due to the bacon. The thyme added a much needed savoriness to the soup, without overpowering it. Everyone really enjoyed it and it will be going in my make again file, for sure.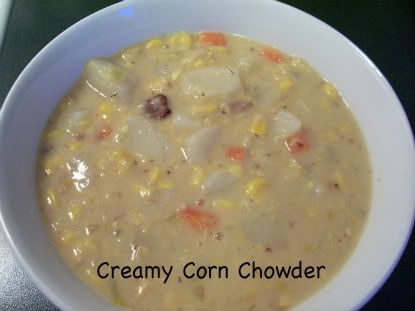 Creamed Corn Chowder
Adapted from How to Cook for Crohn's and Colitis by Brenda Roscher
4 slices center cut bacon
1/2 C diced onion
1 C diced celery
1 C diced carrot
2 C peeled and diced potatoes
1-14.5oz can chicken broth
2-14.5oz cans creamed corn
1/2 tsp salt
1/4 tsp pepper
1/4 tsp dried thyme
1/4 C half and half or chicken broth (optional)
Cook bacon in a large pot or dutch oven, over medium heat, until crisp. Remove bacon and drain on a paper towel. Add onion and celery to bacon drippings and cook about 5-7 minutes, until onion is translucent. Add carrots, potatoes and broth and bring to a boil. Cover and cook about 10 minutes, until vegetables are tender.
Add corn and seasonings and heat through. At this point the chowder will be very thick. If you like a thinner chowder, add either half and half or chicken broth and simmer for 2 minutes. Crumble bacon and add back to chowder.
Variations
Chicken Corn Chowder
:
Add 2 C roughly chopped cooked chicken with the corn.
Baby Clam Corn Chowder:
Add 2-10oz cans whole baby clams and subsitute crushed red pepper, for thyme.
Makes 6-8 servings
I'm linking this post to:
Cookbook Sundays
at Brenda's Canadian Kitchen
Recipe Swap Sundays
at Remodelaholic