This will be a busy week for us. Tomorrow is my Mom's birthday and also the day we are taking Mr.B to Hubby's work, for an early Birthday celebration. Mr.B will officially turn 5, on Saturday. Where has my baby gone?? I have a tentative meal plan set up, but as you know me, it can change at any time. There are a few meals that I'm rolling over, from last week. So here's what's on our menu this week, in no particular order.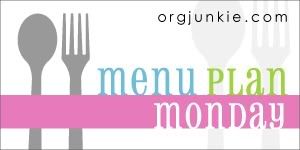 Tonight-
Orange Chicken
, with rice and green veggies
Porcupine Balls with a salad
Pork Stir Fry
Great Northern Bean soup with fresh rolls
BBQ Pulled Pork with Scone (Fry Bread) and Mac'n'Cheese
Spaghetti and Meatballs, Salad and Garlic Bread (Mr.B's Birthday request)
Leftovers
Once again head on over to the Organization Junkie for tons of other great menus!