Happy Monday! After a few weeks of not feeling well, I'm ready to get back on track and start cooking again. Here is what I have planned for this week, but it may change, with DH being home for two days and hopefully cooking, LOL. So here is what's on the menu, in no particular order.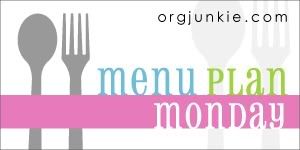 Beef and/or Cheese Enchiladas with Red Beans and Rice (Zataran's)
Cream Corn Chowder and homemade bread
Saucy Mozzarella Patties with Noodles and Cheesy Garlic Flatbread
Hot dogs and Mac'n'Cheese
Pork Stir Fry
Leftovers
Once again, head on over to the Organization Junkie, to check out Meal Plan Monday and tons of other meal plans.