About a month ago, we bought a pork leg, since it was on sale. This thing was huge and we ended up freezing quite a good portion of it. Since then I've been trying to think of ways to use it up. I browsed my Crock pot file and saw this recipe. I had originally planned on making it with pork chops, like the recipe instructs, but the chops that I thought were in the freezer, where not there. So I decided to take a chance and use some of the leftover pork leg. It turned out really well. The pork was tender and the flavor was really good. It wasn't very sweet. Actually you can't taste the sweetness at first, then it creeps up on you and you think "wow, this is good", LOL. I served it with some hot white rice and wish it would have had more sauce. So next time I plan on doubling the sauce portion of the recipe.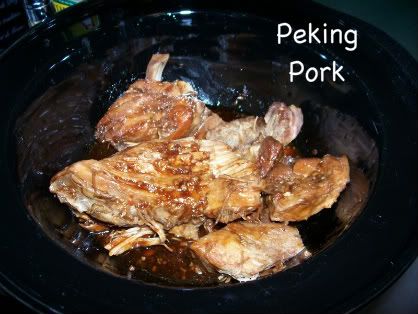 Peking Pork Chops
6 pork chops, about 1" thick
1/4 c. brown sugar
1 t. ground ginger
1/2 c. soy sauce
1/4 c. ketchup
1-2 cloves garlic, mashed
salt & pepper, to taste
Trim excess fat from pork chops. Place pork chops in crock pot. Combine brown sugar, ground ginger, soy sauce, ketchup, garlic, salt & pepper. Pour mixture over meat in crock pot. Cook,covered, on low for 4 to 6 hours, or until tender. Season with: salt & pepper (optional) Serve with:steamed rice and/or Chinese noodles .