Tourtiere is a popular dish, which some say originated in Quebec, while others say it originated in France. All I know is that it was and still is one of my favorite French Canadian dishes, that I've learned to make. We have tourtiere every Christmas. Of course my Mom would usually make a dozen or so pies and freeze them, so we'd be able to enjoy some during the winter months. Most tourtieres are made with ground pork, onion and spices ( such as cloves, cinnamon, salt and pepper). Depending on tastes you can mix half ground beef and half pork. That's the way my parents do it. I, on the other hand, always loved my Grandma's meat pie and that is the version I make today. I know it probably seems weird to eat a pie filled with ground meat, but it really is delicious. The combination of spice, mixed with onion and buttery crust is amazing. Now a days people like to add veggies and sauces to meat pie, but a good ole authentic meat pie is just meat and spices.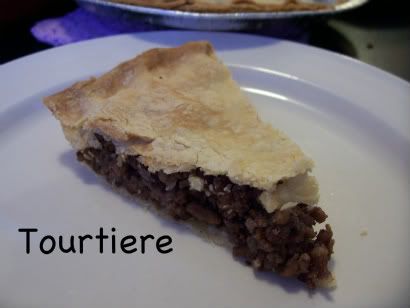 Tourtiere (Meat Pie)
1 LB of ground pork
1 med potato, grated
1 small onion, minced
1/4 tsp each of cloves, cinnamon and all spice
salt and pepper
cornstarch
water
pie shells
In a large skillet, begin browning the ground pork with the onion and season with salt, pepper, cloves, cinnamon and allspice. Once the meat is mostly browned, add the shredded potato. Cook until meat is no longer pink and taste for seasonings; add more if desired. Drain off excess fat. Make a slury using cornstarch and water. Add to pork mixture and let cook until the meat sticks together. Cool 10 minutes. Meanwhile, prepare pie dough, or roll out ready made dough. Place in a deep dish pie plate. Place warm meat into the pie shell and top with second crust. Make a few slits for vents and bake at 350 degrees, until dough is a nice golden brown.