My bananas were getting pretty ripe, so I thought I'd whip something up real quick. I was in the mood to try something different and I thought bananas and oatmeal would pair nicely in a muffin. Off I went to Cooks.com to do a search and decided to try this recipe. I liked the fact that it had honey in the recipe. They turned out wonderfully. Very moist, almost cake like. The oats get nice and tender, you wouldn't even know they were in there. A little sweet, so next time I will reduce the sugar by 1/4C. The kids inhaled them, after dinner and I've had 4 since yesterday afternoon. This will be going into my 'must use bananas' file.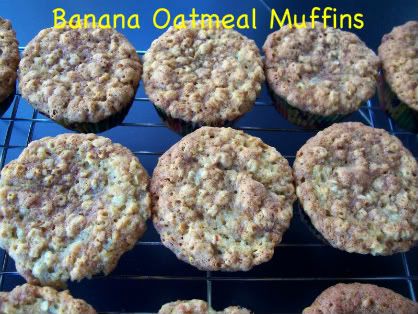 BANANA OATMEAL MUFFINS
Adapted from cooks.com
1/2 c. butter
1/2 c. sugar
2 eggs
1 c. mashed bananas (3 bananas)
3/4 c. honey
1 tsp. vanilla or banana extract
1 1/2 c. flour
1 tsp. baking powder
1 tsp. baking soda
3/4 tsp. salt
1 c. quick cooking oatmeal
Cream butter and sugar. Add eggs, bananas and honey. Combine remaining ingredients and add to batter. Fill muffin cups 2/3 full. Bake in a preheated 375°F oven 18 to 20 minutes or until tops are golden brown and muffins are done.
Makes 1 1/2 dozen.