I found this recipe on
Sister's Cafe
, one of my favorite food blogs. You all know how much I love my bread, so when I saw how quickly I'd be able to make breadsticks for dinner, I just had to try the recipe. I've made these 3 times in the past few weeks, LOL. The first time I did, I followed the recipe to a 'T' and found it lacked a little something. So the second time around, I decided to add garlic powder and grated parmesan to the dough and they were spectacular. We basically fought over the last one. They are simple and quick to make, which I love. Nice and fluffy, salty and garlic-y. A perfect accompaniment to any pasta dish or soup!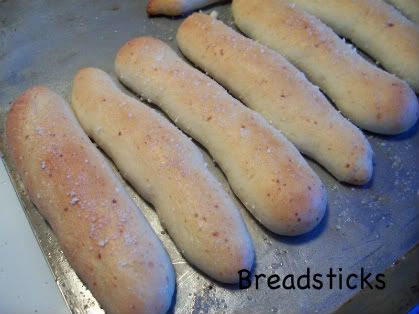 Our Favorite Breadsticks
Submitted by Melanie @ Sister's Cafe
1 ½ cup warm water
1 Tablespoon yeast
2 Tablespoons sugar
3 ½ cup flour
½ tsp salt
Butter for pan
Dissolve yeast in warm water. Add sugar and let it sit and bubble for a few minutes. Add the salt and flour. Knead for 3 minutes. Let the dough rest for 10 minutes. (I do all of this in my Bosch--any mixer would work great)
Melt 3-4 Tbsp of butter and pour most of it onto a cookie sheet. Roll dough to cover cookie sheet. Cut to desired width, then twist or lay flat on cookie sheet. Brush remainder of butter on breadsticks and sprinkle with garlic salt, parmesan cheese, and parsley (or whatever seasonings you like).
Raise for 10-20 minutes. Preheat your oven to 375 and bake for 20 minutes, or until golden. You can roll them out to fit a cookie sheet and they will be pufffy and soft. If you prefer a thinner, crunchy breadstick roll them out to fit a cookie sheet and a jelly roll pan. Either way they are great!
Cindy's notes:
I add 1 tsp of garlic powder and 1/4C grated Parmesan to the
dough.
This post linked to
Countdown to 2011: Bread