Wednesday's dinner was out of this world. I had planned to make stuffed shells, but forgot to buy the large pasta shells. I opted for lasagna instead, since I had some Farmer's Cheese that I really needed to use. My mother in law brought us the Farmer's Cheese and I thought to myself, "what the heck do I use this for?", LOL. After a quick search on line, I learned that you can use it in place of Ricotta in many recipes. So that's when I planned to use it in the stuffed shells. I'm a big fan of bread sticks with my pasta, so I knew I wanted to make some. Mr.B had school that day, so I needed something that I could make quickly, once we got home from school. I remembered a recipe for Butter Dips, that had intrigued me on Baby Center, so I did a quick search and decided to give them a try. Turns out the recipe is from MM, my good friend over at
Mise en Place
. These were so simple to make and taste really great. Not quite a bread stick, but not a biscuit either. I didn't try any of the variations, but did use some homemade garlic butter, that DH had whipped up a few days before. The kids really liked that they were smaller and it made it seem like you were eating more of them. I'll be trying these again and again, with many different add-ins.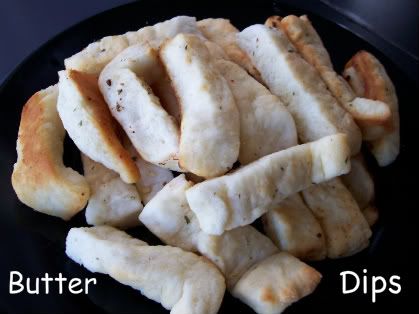 Butter Dips
Submitted by MM
1/3 cup butter
2 1/4 cups sifted flour
1 Tablespoon sugar
3 1/2 teaspoons baking powder
1 1/2 teaspoons salt
1 cup milk
*see variations at end for additional ingredients
Heat oven to 400. Melt butter in oven in oblong pan, 13 x 9. Remove pan when butter is melted. Sift together flour, sugar, baking powder, salt, add milk. Stir slowly with fork until dough just clings together. Turn onto well-floured board. Roll over to coat with flour. Knead lightly about 10 times. Roll out 1/2 inch thick into rectangle, 12 x 8 inches. With floured knife, cut dough in half lengthwise, then cut crosswise into 16 strips. Pick up cut strips in both hands and dip each strip in melted butter. Next, lay them close together in the same pan in which butter is melted. Bake 15 to 20 minutes until golden brown. Serve hot. Makes 32 sticks.
Variations: (1) Add 1/2 cup grated sharp cheese to dry ingredients. (2) Add 1/2 clove finely minced garlic to butter before melting. (3) Sprinkle paprika, celery seed or garlic salt over butter dips before baking. (4) Add 1/2 cup minced chives or parsley to flour mixture.